Poem on Vinayaka Chavithi by Srinivas Kanchibhotla
It should had been tough for Goddess Parvati - hailed by the one and all as the mother of all the worlds and yet never had the opportunity of experiencing motherhood firsthand. How would she had felt the first time some one called her mother, and meant it in a literal sense, and not in a titular way?
There was an excellent song penned by Devulapalli Krishna Sastry for the movie "Vinayaka Vijayam" that talks about her feelings in a personal way that goes along the lines of
evarivayaa
evarivayaa?
ae divi nunDi digi
ee talli vODilOna paDi
This is a humble homage to that great piece and that great poet.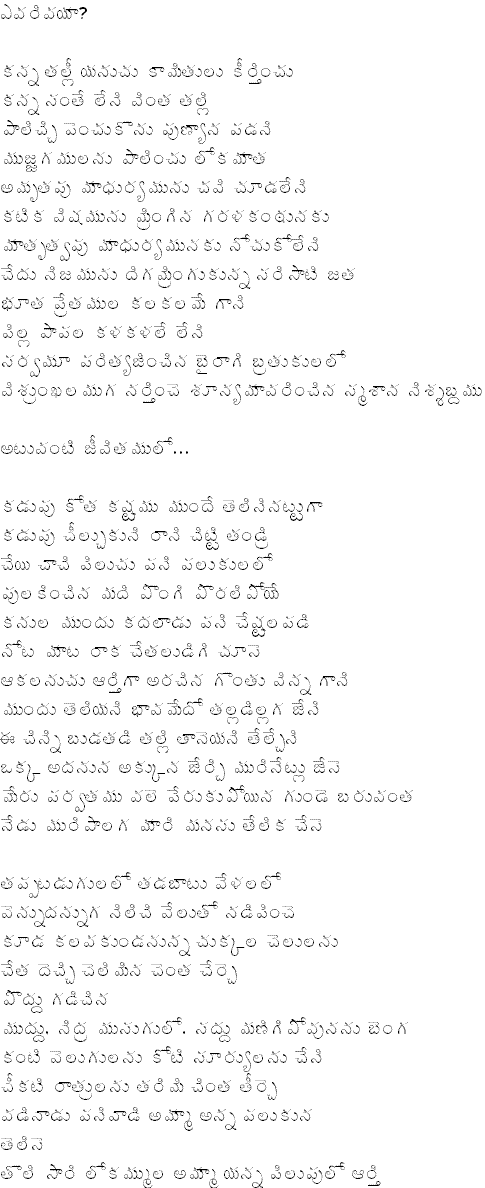 By
Srinivas Kanchibhotla
Tell Srinivas Kanchibhotla how you liked this poem
Srinivas Kanchibhotla poem on Vinayak Chavithi 2007
Srinivas Kanchibhotla poem on Ugadi 2007
Srinivas Kanchibhotla poem on Sankranthi 2007
Srinivas Kanchibhotla poem on Deepavali 2006
Srinivas Kanchibhotla poem on Vinayaka Chaviti 2006
Srinivas Kanchibhotla poem on Sriramana Navami 2006
Srinivas Kanchibhotla poem on Ugadi 2006
Srinivas Kanchibhotla poem on Maha Sivarathri 2006
Srinivas Kanchibhotla poem on Sankranthi 2006
Ravi's poem on Dhoni
Srinivas Kanchibhotla poem on Deepavali 2005
Srinivas Kanchibhotla poem on Vijaya Dasami 2005
Srinivas Kanchibhotla poem on Vinayaka Chaviti 2005
Srinivas Kanchibhotla poem on Sriramanavami
Srinivas Kanchibhotla poem on Ugadi
Srinivas Kanchibhotla poem on Sivarathri
Srinivas Kanchibhotla poem on Sankranthi
Srinivas Kanchibhotla poem on Dipavali
Srinivas Kanchibhotla poem on Dasara
Also read Bhanu's poem on Shankar Dada MBBS
Also read Bhanu's poem on Sirivennela
Also read Bhanu's poem on Malliswari