Story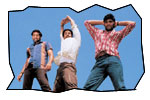 Paramdham (Ravi Prakash), Pedda (Raja Sridhar) & Chinna (Anil) are three spoilt youngsters in Amalapuram. They get infatuated by a girl (Nitya Das) who comes from Vizag for a visit. When she is developing a strong bond of friendship, one of these buddies misbehaves with her. Upset by the bad reputation they got in Amalapuram, these youngsters shift their base to Vizag. There they realize that the girl they met in village is in serious depression because of the sexual harassment by her coach and the mental harassment by her brother-in-law. She wants to become a tennis champ. The rest of the film is all about how these guys help her to achieve her dream.
Artists Performance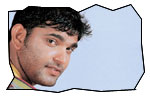 Ravi Prakash, Raja Sridhar and Anil did well. They possess good dialogue delivery too. Heroine Nitya Das is unimpressive. Among the comedians, Krishna Bhagawan and Hema impress. Kondavalasa and Dharmavarapu fail to evoke humor. Malladi Raghava, Jogi Naidu, Annapurna and Narsimha Raju are adequate.

Technical Departments: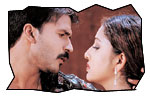 Storyline of the film is unappealing. Direction is not up to the mark. Screenplay is uninteresting. Music is average. Photography is adequate. Dialogues are mundane. The cinematographer succeeded in capturing greeneries of Konaseema.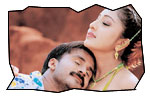 Analysis: First half of the film is boring as it has single thread throughout. Second half is slightly better. The only plus point of the film is comedy by Krishna Bhagawan. This film suffers from bad direction. There are some cheap jokes on temple priests. There is vulgarity in comedy episodes involving Kondavalasa and Dharmavarapu. On a whole, 123 from Amalapuram is an avoidable fare.
123 from Amalpuram Links
Photo Gallery
Press Meet
Audio Launch
Jeevi reviews of previous 5 films
Please Naaku Pellaindi
Adirindayya Chandram
Andhrudu
Nuvvante Nakistam
Athadu
Premikulu
More Reviews