Story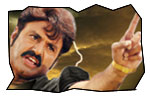 Chakravarthy (Punit Issar) is a military officer. He has twins called Ranjith and Giri. Ranjit is very responsible kid with bright attitude. Giri is more of an innocent carefree guy. Chakravathy feels that Giri is a liability for his family. Chakravarthy goes into oblivion for 14 years. And the kids grow up. Ranjith becomes a powerful and honest police officer. Giri continues to chill out with his friends circle in that little hamlet. GK (Mukesh Rushi) is a powerful mafia man who smuggles fire arms to anti-national elements and Ranjith busts his animations. GK want to take revenge on Ranjith's family. The rest of the story is all about how Giri raises to the occasion to save lives of hundreds of people and earn much-deserved respect and love from his father.
Artists Performance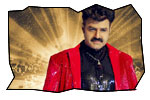 Bala Krishna: Bala Krishna donned two contrasting characters in this film. He is excellent in both roles and shown the much required divergence and versatility. Bala Krishna exudes village-type innocence in Giri character and exhibits stylish charm in Ranjith character. His dances in 3rd song are free-flowing. However, he did not get proper occasion to unleash his powerful dialogues in this film.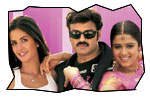 Heroines: Charmme did the role of a village belle. She is extremely cute and attractive in half sarees and long hair. Katrina Kaif suited her role well. She has got certain sophistication and class attached to her. And she is a perfect fit for that role. She put on a little bit of weight which made her look more appealing.
Others: Punit Issar is adequate as the father. Raghu Babu gave some comic relief. Mukesh Rushi and Rahul Dev are efficient. Kota is good. Tanikella Bharani got a good character. Subba Raju and Benarjee are OK.

Technical Departments:
Story: Story of the film is about how a guy replaces his twin brother to prove his efficiency and integrity to his father. Such a mature father hating his kid for silly reasons - which forms the base of storyline - looks unconvincing. Giri character replacing all powerful Ranjith also appears pretty archaic.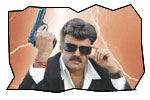 Screenplay - direction: Screenplay by Paruchuri brothers is adequate in the first half, but goes for a toss in second half. Director Jayant injected certain amount of stylishness in the characterization of police officer, but he could not handle the script properly. The narration is slow in first half and contrived in the second half.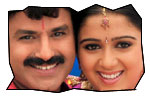 Other departments: Photography by Ajay Vincent is good. Music by Mani Sharma is excellent. The picturization of Dikki Dikki is the best. The digital color grading added a lot of style to the texture of the film. Dialogues by Paruchuri brothers are average. Art work by Ashok is adequate. Fights by Vikram Dharma are OK. Production values by PB Art Productions banner are very good.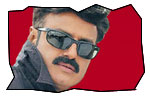 Analysis: First half of the film is decent as it sets foundation for the story. The second half is a let down. The main assets of the film are Bala Krishna and music by Mani Sharma. The negative points are inefficient handling of second half and screenplay. Bala Krishna's amazing ability of dialogue delivery was not utilized well. We need to wait and see how it fares at box office.
Allari Pidugu Links
Hexa disc function
Photo Gallery
Wallpapers
Trailers
Chitchat
MRV Prasad
Release centers
AP | USA | Australia
Jeevi reviews of previous 5 films
Chatrapati
Political Rowdy
Good Boy
Nayakudu
Allari Bullodu
More Reviews