Story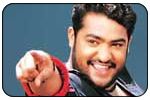 Shankar Pehalvan, a.k.a ANDHRAWALA (NTR), is the leader of labor from Andhra in Mumbai. Shankar fights with the mafia don Bade Mia (Sayaji Shinde) and in the process Andhrawala also becomes a don. In the ensuing mafia feud, Bade Mia kills Shankar and his wife (Sanghavi). Basha (Benarjee) - a trusted lieutenant of Sankar - takes away the kid to rescue him from Bade Mia. When mafia goons follow him, Basha leaves the kid on a footpath besides a beggar and leaves.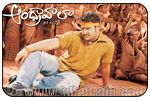 The kid, Munna (NTR), is raised in a slum area. While Basha is in search of Munna to safeguard him, Bade Mia is in search of him to avenge the death of his son in the hands of Shankar. Thanks to the similarities in appearance of father and son, Basha and Bade Mia recognize that Munna is son of Sankar. Munna gets to know his identity and the story of his father and his death from Basha. In the meanwhile, Bade Mia men descend to Hyderabad to kill Munna. Munna decides to take the battle to Bade Mia and goes to Mumbai to confront with Bade Mia face to face. The rest of the story is all about how Munna succeeds in his personal vendetta.
Artists Performance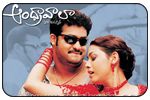 NTR: NTR performed well in the role of Munna as a committed youngster with loads of mass charecterization. His dance movements are as fluid as it can get and he attempted doing variety steps in 'Naire' song with good success. His comedy in first half is firstrate. However, the get up for the role of 'Andhrawala', that appears for very small time on screen, resembles that of Raja Sekhar's in Maa Annayya.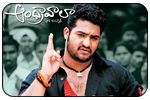 Rakshita: She played the role of Miss India and of a girl who is desperately seeking the attention and love of hero. Though she is good as a mass heroine, her characterization crossed the limits of sensibilities with a few lewd gestures. Words uttered by her like 'Pisikesta' and 'Kinda paina choodavayya' were at best avoidable. The scene is which she lifts her dress to forcibly seduce Munna also crosses the limits. The dubbing artist who usually dubs for Ramya Krishna's voice has dubbed for Rakhista voice in this film.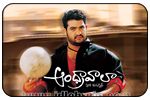 Others: For Sayaji Shinde, it's a perfect role of Hindi speaking Mumbai don. Rahul Dev played the role of bother of heroine. Benarjee is terrific. Jeeva is appropriate. Brahmanandam is pretty hilarious in the character of home minister. The comedy scene between Brahmanandam and Pavala Syamala is the best comedy scene in this film. Rama Prabha and Venu Madhav are OK. Rajiv Kanakala got a very unimportant role and is not utilized. Nassar, GV and Ranganath are fine
Technical Departments:
Story: Story of the film is old fashioned one. There is one shortcoming in the basic storyline. Nasser is seen as the guardian of crores of property earned by Andhrawala. Andhrawala started his career as daily labor and gradually becomes a don. If Andhrawala earns so much money, why did he not distribute to his colleagues.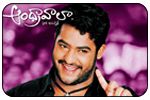 Screenplay - direction: Screenplay of the film lacks the proper format. Its very slow in first half and its very rapid in second half. Puri Jagan targeted hardcore masses in this film and moulded characterization of the protagonist accordingly. You can find heroine dominating love proceedings in this film in contrast to Jagan's latest films (Idiot, ANOTA, Shivamani) where hero dominates heroine. Though the direction is quite satisfactory in the first half, the things go haywire in the second half. The last 30 minutes of the film witnesses loads of gun fire and killing spree where many persons are killed at a rapid pace.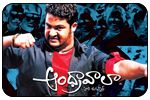 Dialogues: Dialogues by Puri Jagan are OK. Half the dialogues written for NTR have the flavor of careless one-liners that are usually seen in Puri Jagan's hero charecters (especially Ravi Teja). However, he could have avoided writing explicit dialogues to Rakshita's character. All the dialogues for Mumbai episode are written in Hindi. And for a normal mass viewer, its quite difficult to understand Hindi dialogues. Telugu sub titles would have been appropriate.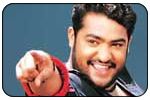 Other departments: Music by Chakri is average. Choreography of first and last song ('Naire Naire' and 'Gichi Gichi) is excellent. Other songs are neat. Re-recording is satisfactory. Shyam K Naidu's photography is good. Editing by Marthand K Venkatesh is crisp. Stunts by Vijay match his earlier good work. Giri made this film with ample budget.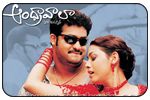 Analysis: First half of the film is OK. Interval bang is interesting. The second half is dull. The flashback episode - that is supposed to justify the title of film - could not evoke the right emotion. This film is released with lots of hype and hoopla in 450 odd theaters. We have to wait and see if NTR's charisma could pull the film's run to a decent number of days or not.
Andhrawala stuff:
IB on wheels
Special News bulletin
Muhurat
Photo Gallery
Wall Papers
Audio review
Audio function
Mega Posters
Trailers
Interview - Giri
Release Centers
USA | UK | AP