Story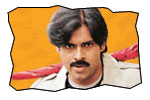 Gudumba Shankar (Pawan Kalyan) is an orphan. He is a smalltime ruffian who makes his living by cheating people. On his way to Hyderabad, he accidentally meets Gowri (Meera Jasmine). Both of them are forced to travel together. A few more incidents make them good friends. Then Shankar realizes that Gowri is a girl who ran away from her house. By then, they start having feelings for each other.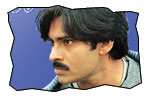 Local goon Kumara Swamy (Asish Vidyardhi) wants to marry Gowri forcibly, which is why she runs away from the home. Kumara Swamy finds out Gowri and takes her back to the house. Kumara Swamy is extremely superstitious and he heavily depends on the astrology of Parabrahma Swamy (Brahmanandam). Shankar blackmails Parabrahma Swamy and joins the wedding house as the wedding planner along with Ali and two other buddies. The rest of the story is all about how Shankar tricks Kumara Swamy so that he could marry Gowri.
Artists Performance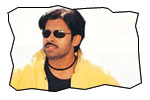 Pawan Kalyan: Pawan Kalyan single handedly managed the entire show. He concentrated on comedy aspect a lot as 80% of his part in the film is comedy. Pawan Kalyan effectively used his typical Srikakulam slang at times. Pawan Kalyan looks pretty eccentric and maverick with a headband and with a body language of extreme recklessness. This kind of recklessness was mastered by Johnny Depp in 'Pirates of Caribbean: The curse of the black pearl'. After the 3rd song is over, Pawan Kalyan's body language changes into normal one. He dances with lot of vigor. Pawan Kalyan is exceptionally hilarious in the following three scenes -
1. Pawan Kalyan treating his Scorpio vehicle (which he fondly calls as Bangaram) like a close relative and mourning as if a close relative is dead and then cursing the people who caused the damage.
2. The scene in which Pawan Kalyan creates rift between villain (Asish Vidyardhi) and villain's friend (Sayaji Shinde).
3. The scene in which he imitates different heroes.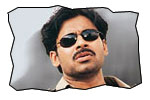 Others: Meera Jasmine looks demure in this film and did pretty well. And her costumes make her look little obese. She dubbed her voice. Though sounds fresh, her dubbing is artificial. Asish Vidyardhi is OK for the role of bakra villain. Rajan P Dev did a character of an insane man. Venu Madhav, Sunil, Brahmanandam, Ali and Jyothi are adequate. Kota Srinivasa Rao did a small role.
Technical Departments: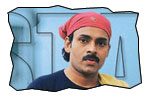 Story: Story of the film is wafer thin. The basic storyline has the shades of Hindi film 'Dilwale Dulhania Lejayenge'. The first half is about hero and heroine (both on run) getting to know each other well and falling in love. Second half is about how tactfully hero steals heroine from the clutches of the bakra groom.
Screenplay - direction: It is extremely important for any filmmaker to narrate the film with good screenplay when there is no strong story. Screenplay of this film is incoherent. Direction of the film is inconsistent. The director tried to narrate the wafer-thin story in lighter vein by using humor. But, the director failed to create the much needed feel of falling in love between the lead pair. Narration of the film is slow.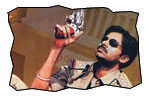 Music: Songs of the film are an asset. Background music is ok.
1. Le le le: This song is an inspirational song that revolts against child labor, eve teasing and dirty politics. Pawan Kalyan did Michael Jackson style of steps (pounding walk). Pawan wore a single costume throughout the song.
2. Killi Killi: Killi song is a mass song. But Pawan Kalyan tried to have some punk steps to suit his maverick characterization in the first half. Natanya Singh played the dhaba belle.
3. Chiguraku Chatu: This song is picturized in New Zealand. This melodious song strikes the chord with the public. Picturization of the song is also good.
4. Emantaro: Generally we do expect this song to be shot in outdoors by exploring the tender love feelings between lead pair. But this song is canned in house set with guests all around.
5. Chitti Nadumu: This song is simply terrific in terms of every aspect. The placement is good. Choreography is good. Theme is good. Lyrics are good. More over, this song would be liked by both masses and classes equally well. The rap 'comon comon' created furor in the theater with excited movie lovers expressing their joy. Pawan Kalyan danced with gay abandon in this song.
6. Chilakamma Mukkuki: This is a situational song which comes up when Pawan Kalyan makes groom (villain) a bakra while dancing with bride.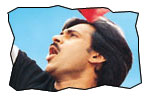 Other departments: Dialogues of the film are pretty casual and sometimes rub you in the wrong way. Camerawork by Chota K Naidu is good. But there is a bit of inconsistency with the lighting of the film (probably it has to do something related to post-production activities like color grading). Editing is OK. Choreography by Raju Sundaram, Brinda and Harish Pai is good. The stunts in this are handled by three masters - Stun Siva, Amin Ghani & Vijay. The climax fight in which Pawan Kalyan treats a log literally like a cricket bat to beat the goons black and blue is interesting, though prolonged a bit. Production values by Anjana productions are lavish.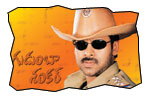 Analysis: First half of the film suffers with poor narration and odd situations (especially series of events that happen when hero and heroine travel on the road). Second half is better as the locations and situations become familiar. The positive points of the film are comedy by Pawan Kalyan and songs. The main drawback of the film is that there is not enough substance in subject and the treatment of the film, which would make the comedy by Pawan Kalyan justified to the theme/script of the film. The romance between hero and heroine should have been handled in a much better manner. This film also lacks a powerful villain. It is a must watch film for all Pawan Kalyan fans as they can see him doing exceptionally talented comedy. The fate of the film would depend on how general audience and masses like the film.
Gudumba Shankar links
Sreya Audio Review
Photo Gallery
Working Stills
Mega Posters
Wall Papers
Trailers
Release centers:
Andhra Pradesh | USA | Singapore | Australia | UK | Germany
Jeevi reviews of previous 5 films
Madyahnam Hatya
Gowri
143 (and i miss you)
Shiv Shankar
Arjun
More Reviews