Story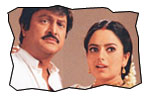 Mafia leader Sobhanadri (Raja Murad) picks up the orphan Sivaji (Mohan Babu) on the streets and takes him as godson. Hemadri (Riaz Khan) is the son of Sobhanadri and he is often jealous of the love showered on Sivaji by his father. Hemadri kills a judge in a fit of rage and Sobhanadri reprimands him and gives the power of attorney for his assets and operations to Sivaji.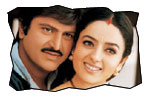 An enraged Hemadri plans to assassinate the entire family of Sivaji and he succeeds only in killing wife of Sivaji (Soundarya) and one son. Sivaji takes his other son and migrates from Vizag to Bailukuppe monastery (near Mysore) to become a monk. He changes his name to Shiv Shankar and donates all the money he inherited from his godfather to the monastery. Meanwhile, Sobhanadri and Hemadri are in frantic search to find out Sivaji and retrieve all their money. The rest of the story is all about what prompted Shiv Shankar to travel back to Vizag and how all ends well.
Artists Performance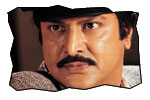 Mohan Babu is at his best. There are his trademark dialogues in this film that got response from the frontbenchers. Soundarya is good as usual and unfortunately this film is her last film. Natanya Singh is OK in her glamorous role. Though good in histrionics, Raja Murad could not live up to the caliber of the godfather role mainly because he could not get his histrionics in a right way that Telugu audience could appreciate. Riaz Khan is fair as the hot-blooded bad guy. Separate comedy track involving Venu Madhav, AVS and a girl is bit vulgar. Ahuti Prasad did an important role of Muslim car driver.
Technical Departments: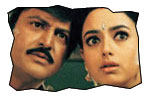 Story: Basic storyline of the film is heavily inspired by 2002 Oscar Award nominated Tom Hanks film 'Road to Perdition'. In fact there are certain scenes in the film in which shots/dialogues were translated as it is. Though 'Road to Perdition' was released in 2002, the backdrop of the film is set against depression era in USA (1930's). The latter part of the film is reworked on to suit the nativity.
Screenplay - direction: Screenplay by Satyanand is mediocre. Direction by Kapuganti Rajendra (28th protégé of Dasari Narayana Rao) is old-fashioned. The director could mold the film in a proper way though the actress Soundarya demised during the making of the film. However, the characterization of Raja Murad is bit confusing as per the following scenes:
1. In a scene Raja Murad tells his Riaz that Sivaji is just like the pet dog who shows too much of loyalty to its owner. He assures Riaz that all his assets and power would be transferred to him.
2. In another scene, Raja Murad transfers all the money and power to Sivaji.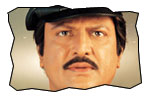 Other departments: Music by Maestro Ilayaraja is melodious except for an item song. Background music is OK. Cinematography by Jayaram is fair. Dialogues by Satyanand are average. Visual effects (graphic work) done for the film is good (without looking artificial and without dominating the originally shot spool). The location of Bailukuppe monastery and Buddha Temple are good. The concept of using split screen is good. But it would have been more helpful if the same work were done for a film made with high technical values and modern shot making.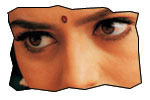 Analysis: First half of the film is average. Second half is a let down. The plus points of the film are performance of Mohan Babu and music by Ilayaraja. The main drawback of the film is old-fashioned narration and taking. This film is the last film of Soundarya, thus derives bit of sympathy factor. We have to wait and see how box office responds to Mohan Babu's film that is released after a gap of two years.
Shiva Shankar Links
Photo Gallery
Audio function
Jeevi reviews of previous 5 films
Arjun
Valliddaru Okkate
Intlo Srimati Veedhilo Kumari
Naa Autograph
Donga Dongadi
More Reviews