Story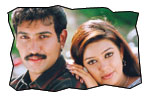 Siva (Tarakaratna) falls in love with Priya (Chaya Singh) at the first sight. DK (Asish Vidyardhi) is a professional killer and an atheist. DK harasses his wife Sandhya on religious grounds. Sandhya is a buddy of Priya. Priya warns DK not to harass Sandhya. DK kills Sandhya and Siva is a witness to it. The goons from DK's camp keep chasing Siva. Meanwhile, Priya realizes that she is also in love with Siva. The rest of the film is about how all ends well.
Artists Performance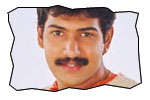 Main Leads: Taraka Ratna is better is in this compared to his earlier films. He is completely at ease. His long legs helped him make the fights in this film effective. Chaya Singh has got amazing ability of emoting and expressing herself. She is better looking in film compared to the movie stills. Dubbing by Savitha Reddy matched this heroine to the tee.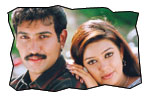 Others: Asish Vidyardhi is OK, but becoming redundant as comic villain. Lahari is fair as the wife of Asish. Three more heroines - Neha (Dil), Tanu Roy and Keerthi Chawla - did an item song each. Brahmanandam generated adequate comedy as an escape from mental-asylum. Venu Madhav is ineffective as comedy generating dada. Babloo and Sivaji Raja did the roles of heroes buddies.
Technical Departments: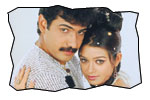 Story: Story of the film is totally weird. We do not understand what is going on the screen. Each and every film has got something called conflict that appears between two characters. And this storyline defies every norm of story telling in a negative way. The following points illustrate it
1. Hero vs. Villain: Hero witness villain for the first time when he murders his wife. Since then, he runs away from villain and gang in stead of bringing villain to the book.

2. Hero vs. Heroine: Hero and Heroine do have very little interaction though hero is madly in love with her. The entire film is a 'hide and seek' game between them and they meet only in climax.

3. Heroine vs Villain: Heroine has a valid proof to arrest villain. But makes no attempt to do so even after villain kills her best buddy.

4. Ending to villain: Hero never confronts villain directly and villain is finally arrested by comedian Brahmanandam, who happens to be CID officer.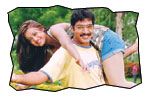 Screenplay - dialogues - music - direction: Screenplay of the film is totally flat. Direction of the film is aimless. Dialogues of the film are inane. Music is pretty mundane. Background music is mediocre. Director Pappu should realize that technique does not mean having weird camera angles. Technique is all about narrating the story in a convincing way by using sound and camera as per the demand of situation.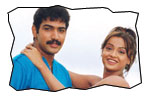 Other departments: Camerawork by V Srinivasa Reddy too flashy to watch. He used unusual lenses most of the time and placed camera in awkward angles. Editing by Nagi Reddy is adequate. Production values of the film are adequate. Stunts in this film are OK. The hospital fight is really is good.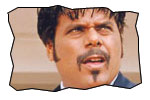 Analysis: First half of the film is boring. Second half is little better. The main drawback of the film is Pappu who provided pathetic story, weak screenplay, dismal direction, dull dialogues and mediocre music. There is no justification of keeping title as 'No' for this film. My recommendation for No film is a big 'No'.
No links
Photo Gallery
Audio Function
Jeevi reviews of previous 5 films
Konchem Touchlo Vunte Cheputanu
Suryam
Sakhiya
Sundarangudu
Kaani
More Reviews