Story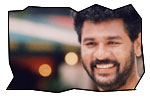 Satti (Prabhu Deva) is the spoilt son of a millionaire (Mouli). Fed up with the erring ways of Satti, the millionaire puts a test to him. He asks Satti to survive in Vizag as an independent man for 3 months without using the name of his father. Satti lands up in Vizag with empty pockets. The rest of the story is all about how he proves himself to be a man of integrity and responsibility.
Artists Performance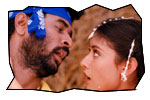 Prabhu Deva is at ease in the role of a good hearted innocent youngster. There are a couple of sparking steps in the 1st song of the film. The way he performs in the first mock fight of the film is worth an appreciation. Laila over-did her role and the dubbing by Savita Reddy suited her. Neha is adequate. Prakash Raj is fine as the cold-blooded villain. But seeing Ravi Shankar dubbing his voice is annoying. Murali is fine as upright person. Baby Kalyani steals the show. Mouli is appropriate as the worrying father and the millionaire businessman.

Technical Departments: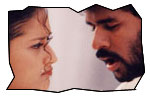 Story - screenplay - direction: The basic storyline is interesting. However the execution of the story is bad. The story meanders from one aspect to another aimlessly. Screenplay of the film is shabby. Direction is not up to the mark. Narration of the film is boring most of the times.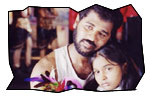 Other departments: Music by Vidya Sagar is adequate. One song of the film is good. But, that tune was already used for Radhe Govinda song in Indra film. Photography is average. Editing is just OK. Dialogues are mediocre. Dubbing standards of the film are not adequate.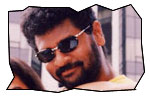 Analysis: This film is a Telugu dubbing version of a Tamil film titled Alli Thandha Vaanam that was released in 2001. It does not make sense to dub an unappealing Tamil flick into Telugu after a gap of 4 years. The first 15 minutes of the film is good. The rest of the film is boring, expect for occasional good moments by Prabhu Deva. On a whole, it is a badly made film.
Satti Links
Photo Gallery
Audio launch
Jeevi reviews of previous 5 films
Rendella Taruvatha
Super
Kanchanamala Cable TV
A Film by Aravind
Naa Oopiri
More Reviews