Story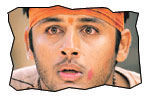 A civil engineer (Prakash Raj) is assigned to build a reservoir called 'Seetamma Talli Dam' at a village Ramapuram. A local politician Brahmam (Pilla Prasad) opposes the move and gets the engineer and his wife killed. Their son becomes an orphan and is named as Anji (Nitin) by the temple priest (Chandra Mohan). He is raised by a few kind people. Anji is a staunch devotee of Lord Anjaneya.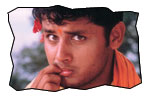 Brahmam comes to know that there are heavy deposits of black granite in the area where the 100-year-old temple exists. Brahmam plans to demolish the temple and construct a new temple at some other place. Anji wants to do something about it. But he cannot do a thing because he fears bad people.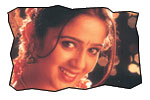 One fine day, Lord Anjaneya comes to Anji in guise of a human being and be there with him to teach him and prepare him to perform that Dharma which he is assigned by the God to do it. That is to build the 'Seetamma Talli Dam', so that everybody in the village can enjoy the good crops with the help of ample water from the Dam.
Artists Performance
Arjun: Arjun has a magnetic presence in this film. SP Bala Subramanyam dubbed Arjun's voice and it helped in establishing the divinity to the character from the voice aspect as well. His imitation of monkey's mannerisms went well with the characterization.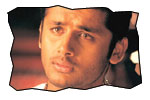 Nitin: Nitin is the best choice for the role of male lead in this film. He is extremely delicate in looks and innocently vulnerable in outlook. For the first time, Nitin dubbed his own voice (Hero Sivaji dubbed his voice for his earlier films). And he needs to tone up his modulation a little bit and should speak a bit slow for clarity.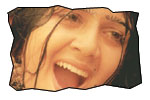 Charmy: Charmy is lively as the bubbly village girl. Udaya Bhanu's dubbing sounds fresh for a heroine's role because we see Sunitha doing dubbing for 70% of the films which make her voice monotonous. Charmy's emotional outburst at her father in the second half is pretty impressive. She exposed herself a lot in the couple of duet songs. And her natu dialogues in the film include abuses like 'naa koduku'.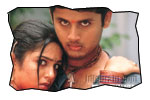 Others: Pilla Prasad - a new actor - is impressive as the villain. The brother of villain provided certain comic relief with his quick repartees at his brother. Chandra Mohan is honest as the temple priest. Prakash Raj and Ramya Krishna did guest appearances as the parents of hero. Subbaraju is good as the henchman and his dialogue 'I lovvu Paddu' is cool.
Technical Departments:
Story: The basic story is line has the following two main threads
1. A son accomplishing the noble deed left unfinished by his parents because they got killed by a bad guy.
2. God coming in rescue of a devotee and guiding him to accomplish the 'daiva karyam'.
In films like Ammoru and Sri Manjunadha, the God - in guise - visits the devotee to help him/her and he/she ask God (in guise) to go away from them. The same point is used in this film as well.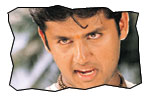 Screenplay - direction: Krishna Vamsy's mark is there in the direction. However, he should have taken enough care in screenplay. 80% of the film has devotional ingredients. And it is absolutely essential to get the audiences respond to the devotional scenes in a compassionate way. But only few devotional scenes moved the audiences with much needed feel. Krishna Vamsi should have been given a thought about the basic issue that projected in that film -
Ramapuram is projected as a village that is terribly affected by famine and draught to such an extent that it desperately needs a Dam for water storage. On the contrary Krishna Vamsi has shown the entire village to be full of greenery.
Music: Music by Mani Sharma is excellent. The songs are scored well and background music is effective. He used Indian instruments most of the time while scoring music for Sri Anjaneyam. There are 3 mass songs. 'Avvayi Tuvvayi' is the best song for masses. 'Rama Rama Raghurama' is the best song that is blended into the storyline and mood of the film. 'Pula Ghuma Ghuma' has Charmy charming the crowds with her charms.Sri Anjaneyam sloka comes twice - one for Ramya Krishna and another for Nitin.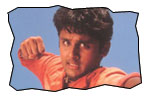 Visual Effects: Lots of efforts, time and money were invested in the department of visual effects. The visual effects in this film are good. Especially the ones where a gigantic statue of Lord Anjaneya is formed out of dust, rocks and cosmic energy. But some visual effects appear artificial (Nitin and Arjun flying over the Bridges).
Digital Intermediate application: The digital color grading is fabulous in this film which made the film look vibrant and more colorful with pleasing hues. The saffron and green color tones dominated the film. The flashback episode is shown in typical 1970's cinema (Geva color). This application also made the visual effects go in sync with the regular scenes of the film seamlessly.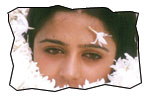 Other departments: Photography by Ram Prasad is good. Artwork by Anand Sai is fair. Editing by KV Krishna Reddy is cool. Fights by Thriller Manju are entertaining (especially the kallu dukanam fight). Dialogues in the film are apt. The dialogue writer used lots of 'naa koduku' dialogues in the film for which censor officers did not object. There are philosophical dialogues and a few one-liners.
Jogi brother: Nenu Pepsi taagi chachipothanu. Nenu cocacola taagi chachipothanu
Villain: Vaadini champeyandi. Adage dikku kooda ledu.
Villain's brother: Ye dikku lenivaadiki devude dikku.

Nitin: Inkosari prema annavante peeka pisikesta.
Charmy: peeka tappa edi ****** OK
Analysis: First half of the film is slow and the director has taken his own time in establishing all important characters. The film picks up the momentum from the scene where Arjun descends on to the earth. And the movie is entertaining and educating as long as Arjun is there in the film with him making Nitin do miracles and also the philosophical conversation with Nitin. Krishna Vamsi should be commended for making a different Telugu film when everybody is milking money by doing remakes/freemakes/remixes. He should also be appreciated for making a film that elaborates divine and philosophical aspects of human life in Indian perspective. But if Krishna Vamsi were concentrated more on story and treatment and less on technique and visual effects, the output of the film would have been much better. You may watch it once.
Sri Anjaneyam Links
Krishnavamsi's interview
Sreya's Audio review
Audio Function
Photo Gallery
Wallpapers
Snippets
Trailers