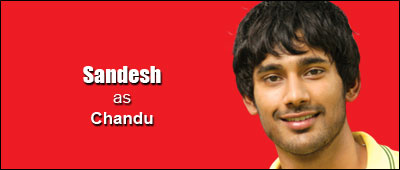 Background:
I was born in Rayagada in Orissa and later lived in Hyderabad for 4 years. Then we shifted to New Jersey, USA. I finished my +2 just now.
How did you get this opportunity:
I saw the advertisement in idlebrain.com and sent photos to Sekhar. He asked me to mail him the video clippings of certain scenes which I did and voila! I got it. After coming to Hyderbad, Sekhar has put us through an acting workshop for 3 weeks where we learnt about acting, dialogue delivery and modulation, nuances of dancing etc.
Tell us about your character in Happy Days?
I am doing the role of Chandu a calm and confused youngster. I am the leader of the pack.
Did anybody tell you that you resemble actor Siddhardh?
Yes. But one should not compare. He is great.
Who is your favorite hero?
Rajnikant. He is probably the number one.
How is the support from your parents?
They extend lot of support. We got permission from school to act in this film. I have to return to NJ in August as exams are due.
How is it like acting in Happy days?
Sekhar Kammula does not want me to act. He wants me to behave.
What are your hobbies?
Basket Ball, Football, Soccer, XBOX 360 etc.
Do you want to continue in this profession?
I have not given it a thought yet. I will try, but not 100% sure. We have to take life as it comes.
What are you doing in your free time here?
My grandparents are staying in Masab Tank. I visit them and go to movies.
You have desi accent in your Telugu. How are you dubbing for this film?
It is very different from acting. It is easy with experience.