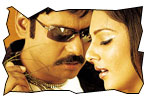 Genre: Social
Type: Straight
Banner: PH Productions
Cast: Haranath Policherla, Krishna, Astha Singhal, Abbas, Ravi Prakash, Sana, Sarath Babu, Satya Prakash, Sujatha, Abhinaya Sri etc

Crew:
Music: MM Keeravani
Story, screenplay & direction: Shivashakti Dutta
Producer: Haranath Policherla
Release Date: 29 June 2007


Sivaji (Haranadh Policherla) is an archeologist and he belongs to the lineage of late emperor Chatrapati Sivaji. It is his family's ambition to get hold of Chandrahas (believed to be the sword granted by Goddess to Chatrapati Sivaji). In the process he accidentally fumbles on the sword-Chandrahas. When he brings it back home, things go wrong with his Muslim family friends. And there is also a gang of terrorists who want to destablize India and at the same time want to get hold of Chandrahas. The rest of the story is all about how Sivaji eliminates the gang of terrorists and clears the misunderstanding with the Muslim family.

1. Music of the film.
2. Novelty in storyline (combining historic aspect to the current story)
3. Krishna's special appearance as Chatrapati.

1. Slow narration of the film.
2. Old fashioned direction
3. Contrived screenplay.
4. Hero's performance need to be improved.

1. An archeologist keeping Chandrahas in his house in stead of handing over to the archeology department.

1. The scene in which a muslim tells to a terrorist that he is muslim during Namaz, but a Hindustani when he is not doing namaz.


It is a badly made film with good music.
Chandrahas links:
• Haranath chitchat
• Muhurat
• Audio launch
• Photo gallery
• Wallpapers
• Trailers


The views/opinions expressed by the author are his own and idlebrain.com does not subscribe to these views. The bouquets/brickbats welcome at [email protected]