Thus, unlike Guru Dutt, Kapoor's rebel was never an outsider. He was the man who always wanted to belong, irrespective of the inconstancies around. He was the young optimist who wanted nothing from the country, but an opportunity to give his utmost. "The young of the country have everything in them, they are honest, educated, they can be beautiful, wonderful citizens of the country, if given the opportunities. But they have always been bogged down by certain social influences, by a shortage of economic resources. They carry a flower in their hand and move towards a different horizon." It is this imperishable bloom of optimism, romanticism and a childlike innocence that has been the hallmark of Raj Kapoor's films through four decades of film lore. And in case the flower has been accidentally replaced by the gun as in Jis Desh Men Ganga Behti Hai (1959), it needs to be picked up from the dust and reinstated. In this film, Kapoor's theory of pacifist romanticism comes to the fore as he essays the role of the innocent country bumpkin who brings back a gang of fugitives into the national fold. Naturally, with love alone.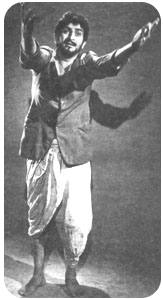 If romance was the core of Kapoor's rebellion as a hero, then it was the hallmark of his attitude as a director too. This romanticism was specially evident in his treatment of women. The heroine has always been the central player in his films. In Sangam (1964), she was Radha (Vyjayantimala), the vortex of the triangular affair. In Mera Naam Joker (1970), she was the temptress who broke the simpleton's heart time and again. In Bobby (1973), she was the pubertic, proletarian kid who caused the hero to cross all barriers of class, family and life itself. In Satyam Shivam Sundaram (1978), she was the temple singer who defined the true concept of beauty for all and sundry, specially a husband who mistakenly believed in the lure of superficial gloss alone. In Prem Rog (1982), she was the vulnerable young widow who laid down the need for a change in social customs. Widows should be given a second chance, she cried out with stark simplicity. Widows mustn't be buried alive with their dead husbands, she whimpered, laying the case for a leniency in religious customs and codes. Love must never be suppressed, screamed Kapoor, the prophet of this primordial emotion.
And in Ram Ten Ganga Maili (1985), she was the epitome of them all. As Ganga, the pristine highland waif, who travelled downwards into the murky heartlands, she carried with her the torment of exploited womanhood per se. Ganga was woman glorified, sanctified and crucified by religion and tradition. For, despite lending the central focus to the heroine in most of his later films. Raj Kapoor's delineation of the woman had always fitted in with the middle-class mind-set and morality. It was the centuries-old concept of woman as Goddess which was reflected with all its glorious obfuscations in Raj Kapoor's films.
While making Prem Rog, the director pointed out that he enjoyed making the film because it was purposeful and had a strong and definite comment to make. This was essentially a statement and a definition of Indian womanhood and its rightful social status. Lambasting society for 'maltreating' the second sex, Kapoor stated, "We Indians are hypocrites. On the one hand, we eulogise womankind as being noble and great and as the embodiment of motherhood. When we want to give our nation the highest respect, we address it as Bharat Mata (Mother India). But in practical life, we always give our women the worst possible treatment. They are burnt alive. They are treated as slaves. Even pet animals get better treatment in many homes. In no other country does one hear of so many cases of rape and bride burning. The birth of a girl is considered a curse in our families. Why is it so? To me, womankind symbolises love, affection and warmth. Women deserve to be respected and put on a pedestal. They have as much right to happiness as any man. My film is a fight for their right to happiness."