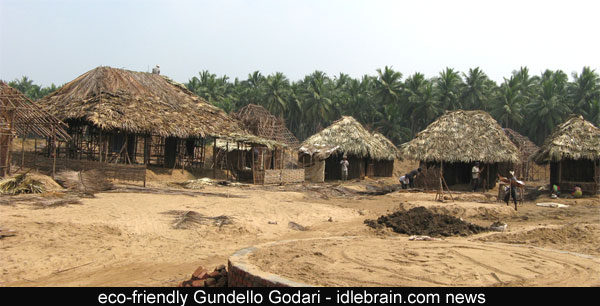 For the shooting of the film "Gundello Godari" which is produced by Ms. Lakshmi Prasanna Manchu and directed by debutant Kumar Nagendra, an authentic fisher man village set has been erected on a landscape of around 27 acres with some 120+ huts & houses…
Ok.., So What….!
The story is set in 1986 Godavari floods… So the set reflects 80's period…
Ok… what's so special about that….?
Yes, there is a specialty about it. The set is erected by the art director Mr. Murali kondeti
What's Special about him…! We never heard about him..?
The specialty is not about him but his strong willed morality and responsibility towards the society.
The Material used to erect the entire village is eco-friendly and natural…i.e., material used for the set erection is completely harmless to the society in any form or stage…
When Art director Murali kondeti showed confidence in using eco-friendly material for such a big set worth crores, the producer and director appreciated his noble intentions and encouraged showing confidence in him.
Hence, THE SET…
The cast includes Aadhi Pinisetti, Tapsee pannu, Lakshmi Prasanna and Sundeep kishan
Music is by Maestro Ilayaraja, the film is also made in Tamil simultaneously.
Other articles on Gundello Godari:
Gundello Godari - mishap avoided
Gundello Godari - lighening up