15th May 2000

Madhuri's First Live Show in Bangalore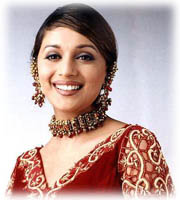 Madhuri Nene enthralled the 2000+ invitees on the evening of 7th May at Palace Grounds, Bangalore. The show began with Anupam Kher's introductory words followed by Madhuri Dixit's 'CholiKe Peeche Kya Hain'. After the song is over the top anchor Kashmira Shaw took the center stage make the proceedings smooth. The act followed by the beautiful Sapna Mukharjee starting her string of songs with 'Paani Paani Re' followed by 'Tipsy Turvy' Hema Sardesai rendering her mellifluous tone to 'Awara Bhaware' followed by raunchy 'E Kudi Anjani Ho'(Zor). Later on Jaspinder Narula entertained the viewers by signing 'Pyar to Hona Hi Tha' with great gusto.

In between Twinkle Khanna performed dance to Kamariya lachchkere from Mela. Mahima Chowdary entertained the raging viewers with her graceful performance of ' Pardes' medley. But the surprise pack of the evening turned out to be Amisha Patel whose medley of 'Kaho Na Pyar Hain' left the entire crowd standing on the chairs and screaming the song at the top of their lungs. Madhuri performed 5 songs on the whole including Que Sera Sera from Pukar, Ek Do Teenů from Tezaab. Her 'Que Sera' song received great applause from the viewers. On a whole it was an eventful night for all the 2000 visitors who had the opportunity to manage 'invitee only' passes.
Mohan Babu on Cloud Nine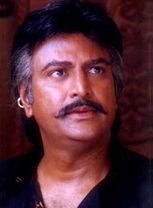 Mohan Babu has the history of hitting back with a bang when he went down. After a night mare of films like 'Yama Jatakudu' and 'Post Man', Mohan Babu is sitting pretty by signing two of the most talked about films. One is Rayala Seema Ramanna Chowdary(RRC), which deals with factionalism in Rayala Seema ( a la Antahpuram and Samara Simha Reddy). Another one is Sardar Nagi Reddy(SNR), a film to be made by Dasari on his own banner whose story is inspired by a real incident that happened in Nizam way back when 200 downtrodden people were decimated in a wedding ceremony by the land lords.

Coming to the RRC part, Rajni Kant has given the story for this film for the first time. Suresh Krishna is the director. Mani Sharma is providing the music. Tharun is the Choreographer. And he is being blooded as the villain too. Tharun Kumar is the son of late dance master legend Hera lal of Hindi. It's shooting started in Polachi on 10th of May by caning a song. Good days ahead for Dr. Mohan Babu.




Naga Babu to be twice lucky!



Nagababu might have turned to red in this year as an actor after dismal performance of his films as an actor, Hands Up and Manasu Paddanu Kaani. But he has a reason to smile from ear to ear. He is going to produce two films with his mega brothers this year. His film with Pawan Kalyan will start in a couple of months. Bheemineni Sreenivas, who directed 'Suswagatam' will direct this venture. Pawan Kalyan is repeating his director for the first time. Another film to be produced will star his big brother Chiru, which will start in the fag end of this year. In the past, Nagababu announced a project that stars three brothers Chiru, Naga Babu and Pawan Kalyan to be directed by Pawan himself. Due to some unknown reasons it was dropped.



Raja Vannem Reddy has a sring of producers lined up

The third biggie of the year, Kshemamga Velli Labhamga Randi(KVLR) surprised many trade pundits with its extraordinary performance. Raja Vannem Reddy, the director of KVLR has become the man producers sought after. He has three hot projects lined up for him. First one is the film by Melody Multimedia with Jagapathi Babu and Srikanth that has complete a schedule of shooting. The second and third ones are by Taranga films and Bellamkonda Suresh.

. Click for the Archive