Aakasa Veedhilo Songs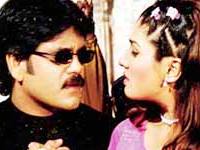 'Vennello Aadapilla ....' is the starting lyric of the song that is being shot at Annapurna Studios since yesterday (26th June 2000). Chandra Bose has penned these lyrics and Devisri Prasad - Chitra have rendered their voice. This song was pictured in the choreography of Lawrance on Nag and Raveena Tandon. Music for this film is provided by Keeravani.
Ramoji Rao is producing this film. Aakasaveedhilo is being directed by Singeetam Sreenivasa Rao. Another song would be shot on 15th July onwards. This film is a graphics intensive one with lots of special effects.
The other cast for this film include Rajendra Prasad, Kasturi, Kota and Sudhakar. Another surprising aspect of this song is that Ramoji Rao has decided to shoot the song at Annapurna Studio though he own a huge Ramoji Film City. Does it mean its more economical to shoot in Annapurna than Ramoji Film city?
Padmalaya's VAMSI is almost complete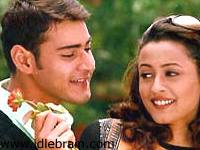 Shooting of Mahesh Babu - Krishna - B Gopal crazy venture for Padmalaya Banner - 'Vamsi' is complete except a song and climax. According to the grapevine this film is titled as Vamsi. Superstar Krishna is going to announce it officially on 29th or 30th of June.
Mani Sharma has come up with another set of foot-tappers. Audio of this film is expected in the first week of August. Vamsi will hit the theaters in either the last week of August or the first week of September.
According to Krishna, his role and Mahesh Babu's role do not have any relationship. These two characters do help each other mutually. Krishna's role has a flash back. They canned a couple of songs in Ramoji Film City from 14th June to 25th June on Mahesh, Namrata Sirodkar, Mayuri Kango, Ali, Junior Venu Mahdav, 80 dancers, 50 models and 50 foreigners. One song is shot in a club set and the other one in the picturesque locations of Ramoji Film City. Today, the shooting is going on in Padmalaya Studios where Mahesh Babu, Namrata Sirodker, Ali and Venumadhav are participating. Story and Screenplay for this film is done by Satyanand.Dialogues are written by Parchuri Brothers. Camera by Ajay Vincent.
Vandemataram is getting ready for the release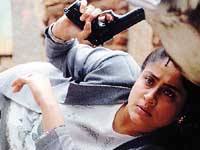 Vijaya Santi's mega venture with Nara jayasridevi is getting ready for the release. This film boasts of Vijaya Shanti and 12 heroes from Telugu, Tamil, Kannada and Malayalam. This multicrore venture is being produced in all 4 southern languages simultaneously. This film is about saving the kids from getting influenced by Terrorism
Cast of this film include Vijaya Shanti, Asish Vidhyardhi, Ambarish, Brahmaji, Ravi Teja, Sanjay, Vinod Raj, Sumant, Anand, Ram Kumar, Kumar Govind, Reetu Singh, Daamini, Akshila and Bhavna. Music for this film is provided by Deva. Story, Screenplay and Dialogues are provided by JK Bharavi. This film is directed by Om Prakash and Produced by Nara Jaya Sridevi under Chinni Films Banner.