Mrigaraju - Chiru and Jack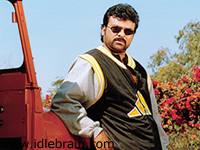 Mrigaraju team had a wild time in the jungles of South Africa with Jack(the lion acting in Mrigaraju). The main purpose of the unit going to Africa was to shoot all the scenes with Jack at one shot. This shooting went on for 26 days out of which 21 days of work was taken place during the night times. The statistics of jack are like this. It's weights 550 kg. Length of jack is 7 feet and height is 4.5 feet. It cost the producer Rs 66 lacs to hire Jack. And it costed RS 10 lacs for the crew of jack.
The total number of unit members who has gone to South Africa from Hyderabad are 34 and the producer had to hire 40 more members out there. 50,000 roles are exposed to can the sequences between Jack and Chiru. There are 6 songs in this film for which two songs are been recorded by Mani Sharma. The balance of Talakona song was shot in SA. 20% shooting of this film is over. Next schedule of this film will start on 15th of August. This film is being directed by Guna Sekhar of 'Choodalani Vundi' fame. Like Choodalani Vundi, this film too has a child sentiment.
Balayya+Anjala Jhaveri+Shilpa Shetty=Sridevi Arts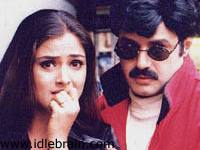 Sridevi Movies that has given a variety film, Aditya369 with Balayya in the past is going to produce another film with Balayya. Arun Prasad, who remade JJWH as Tammudu without losing the nativity is going to direct this film. Incidentally this film is going to be the second one for him as the director. Anjala Jhaveri who paired up with Balayya for his blockbuster 'Samara Simha Reddy' is going to act with Balayya in the film. The long legged lass Shilpa Shetty is going to be second heroine. For the first time Prakash Raj is going to act as the villain in Balayya's film.
Schedule of this film will take place from 31st July onwards till 15th August. Second schedule is slated to start on 1st September to 12th September. Third schedule will take place between 1st November to 20th November followed by the last schedule between 11th December and 31st December. Half of this film would be shot in the forest backdrop. Music for this film is going to be provided by Mani Sharma.