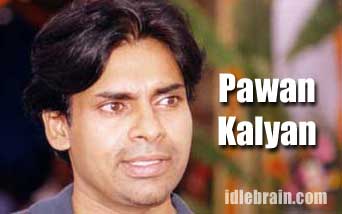 Pawan Kalyan and Naga Babu staged a dharna (protest) in front of Deccan Chronicle office on 22nd of April. Pawan Kalyan, Naga Babu and Allu Arvind accused Deccan Chronicle of assassinating Pawan Kalyan's character by writing baseless stories like the tiff between Paritala Ravi and Pawan Kalyan. They also accused DC of writing that Pawan Kalyan has beaten up Kushi director SJ Suryah, which they say is untrue. Allu Arvind approached the DC officer and asked for the proofs. The DC officer got back to Allu Asrvind saying that he needs 24 hours of time. The entire episode is repeatedly relayed on Teja TV channel.
A visibly charged Pawan Kalyan asked media that Deccan Chronicle is unnecessarily instigating fans of Pawan Kalyan against Paritala Ravi. He said that he never met Paritala Ravi in his life and because of DC's false news Pawan Kalyan's fans are holding unnecessary grudge against Paritala Ravi. Meanwhile, Naga Babu interrupted and said that he met Paritala Ravi once and certified that Paritala Ravi is a thorough gentleman. Pawan Kalyan stated very strongly that he is a private person and is very much attached to his profession of filmmaking. He doesn't care for the rumors floated against him. But the stage has come to such a level where the fans of Pawan Kalyan are getting agitated and they may take things in their hands. Pawan Kalyan reiterated that he has lots of patience, but his fans don't have such kind of patience. He does not want his fans to be misguided by the manipulation of the DC media.
However this protest is about the rumors written on Pawan Kalyan in Deccan Chronicle. This is not at all related to the issue of Pawan Kalyan bashing up the intruded journalists from DC and Andhrabhoomi. When asked about this question, Pawan Kalyan said that he is a law-abiding citizen and he would follow the decision law takes.
Allu Arvind and Pawan Kalyan informed the officer of DC that they would come again after 24 hours. Later on the police has arrested them and taken them to Lalaguda Police station. Pawan Kalyan and his accompaniers is released on bail immediately.
Related Links
Film Critics decision on Jubilee Hills issue
High Voltage Drama at Jubilee Hills
Why Chiranjeevi selected Uday Kiran