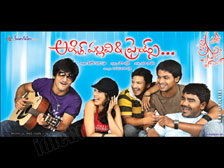 Ankith Pallavi & Friends (APF), starring Nikhil (of Happy Days fame) with Megha Burman as heroine, is all set to release on September 5th. The flick is made on Innovision Cinema banner. A media briefing was arranged today at Film Chamber, Hyderabad, to announce the release date. Producer Kishore Ganji, hero Nikhil, director Hari Yelleti and cinematographer Malini Dasari were present.
Release on Sep 5 with 35 Prints
Kishore Ganji said: "Ankith Pallavi & Friends is going to release worldwide on September 5th with 35 prints. It is a youthful entertainer. Unlike regular flicks which focus singularly either on love or friendship, this film comes with a perfect mix of both these elements. After Happy Days, Nikhil is the first hero to be coming as solo hero among his team with this film. We have done our best and leave the rest to the audience. The film got a clean U certificate."
Audiences is my God
Nikhil said: "I feel nervous now. I am the first person from our Happy Days team to come out with this film, which deals with five friends. It is a superb love story and also it's a great tribute to friendship as well. You have excellent comedy all through the film treated in the lighter-vein. I believe in the adage… do you your work sincerely and leave the rest to God. Now, I consider the audiences as my God. The music of AFP scored by Vinu Thomas is already declared a chartbuster. Our music got 4 stars in several reviews. Director Hari deserves kudos for his unique treatment of the subject. I hope this film will make the people call me as Ankith. Of course, I wish to be called as Rajesh (Happy Days) alias Ankith alias Nikhil. All sections of the audience – women, children and senior citizens, youth – will enjoy this film. When I watched this film, I found tears in my eyes at the climax. The movie touched me. I hope it will do the same thing with the audience. My character comes with all the power…it's full of josh. It's like a typhoon."
Friendship, Love & Music is USP
Hari Yelleti said: "One thing which I observed most in the film industry is that the audience will always like freshness. There is a saying. No two people are alike. This way, I tried to be different. The USP of APF is Freshness in treatment and uniqueness in subject. There are three dominant elements in APF – Love, Friendship and Music."
Ankit Pallavi & Friends links:
• Live chat with Nikhil
• Malini Dasari interview
• Vinu Thomas interview
• Megha Burman interview
• Music review 2
• Music review 1
• Music launch
• Music preview
• Press meet
• Photo Gallery
• Wallpapers
• Trailers
• US schedules