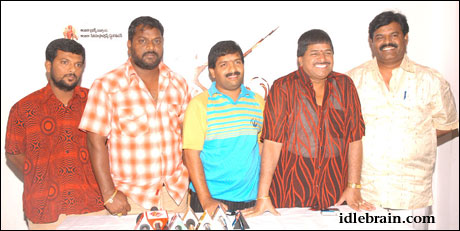 Bala Krishna's latest film Veerabhadra is all set to release on 29th of this month. Producer Ambika Krishna and director AS Ravi Kumar Chowdary arranged a press tonight.
There are different diremnsions to Bala Krishna character – Ambica Krishna
Ambika Krishna said, "AS Ravi Kumar Chowdary is the director of clarity and he knows how to transfer a perfect script to celluloid without losing emotion. We spent lot of money on this film and the director justified the budget with his work. Bala Krishna is going to appear very handsome and emotional in Veerabhadra. There are different dimensions to his character. This film will also be liked by ladies and family crowds."
Veerabhadra will be liked by both fans and family crowds – AS Ravi Kumar Chowdary
Director AS Ravi Kumar Chowdary said, "DTS mixing of the film is currently going on. We are going to release Veerabhadra on 29th of this month. This film will entertain both fans and family crowds. There is sister sentiment in this film. All emotions are there in equal proportions. Mani Sharma has given extraordinary background score. Producer is very uncompromising and he has spent 50 lacs on colony set. Veerabhadra is going to be the biggest hit of year 2006."
10k feet vinyl hoarding on Prakasam barrage – Ambika Rama Chandra Rao
Executive producer Ambika Rama Chandra Rao said, "We are taking special care in promoting Veerabhadra in a big way though Bala Krishna's films do not need this kind of publicity. We are placing a huge 10,000 feet banner (40 x 250 ft) on Prakasam barrage in Vijayawada. We erected the structure now. And sending the Vinyl poster tonight. In a couple days, the banner will be erected. We are also doing publicity on local trains and 3 outbound trains by painting them with Veerabhadra publicity. These trains travel from Hyderabad to Ichapuram."
Veerabhadra Links:
Muhurat
Audio launch
Title announcement
Photo Gallery
Working stills
Trailers