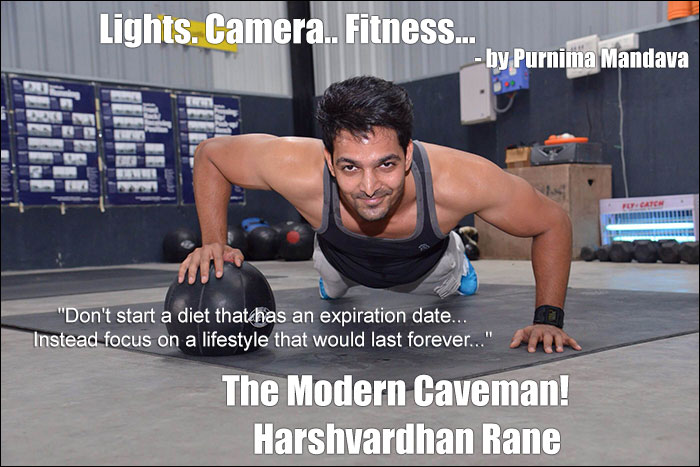 11 August 2014
Hyderabad
Introduction
Hola people! Want to learn how top celebrities maintain those hot bodies, healthy lives and young looking skins, here we come with the extensive list of celebrity workout routines and diet tricks. Yes, they crave junk foods, struggle to take off baby weight and even -- cellulite.. gasp! How do they still look young and sizzling on screen. Here's how! Get set to savour the latest trends in celebrity fitness, diet, health and lifestyle.
GO CAVEMAN! With Harshvardhan Rane!
Peeps! How did you like the extremely fit and a leaner Harshvardhan Rane while he sizzled shirtless in his latest movie Maaya?! Here's how I barged into his beautiful home, his kitchen and workout places to get you all know about how this young chap is managing to get younger by each film, the works behind his fab body and many more interesting facts about this hero.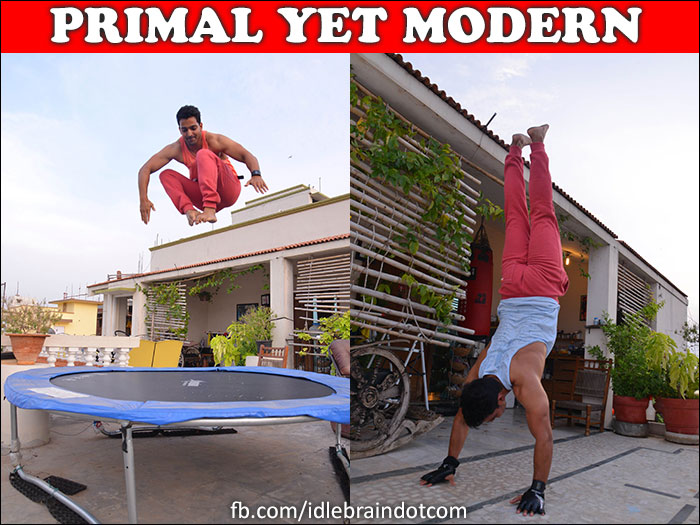 PRIMAL YET MODERN
Fitness machines like Treadmills, Elliptical bikes and Cycles are conspicuous by their absence in Harsh's regime. "We do not need any machines to workout, our own body weight is capable of giving us the right workout," he says, however the equipment he uses is a lot different from the conventional gym ones. I ought to mention here that, everything about him is primal yet very modern. His home is a basic penthouse with an open terrace and lots of space on the outside, on contrary to that, inside it's a studio apartment with sophisticated set up with quite a few electronic gadgets. A lot of wooden furniture in the room is handcrafted by harsh himself (including the chairs on which we sat and spoke). The kitchen is an open kitchen and the wooden panels there are designed by him as well. The moment you enter the verandah of his penthouse, you can find a bright blue and black trampoline almost towards the parapet! Guys!If you think trampoline workout is a child's play, he would sure prove you wrong, the pictures even more because he uses trampoline efficiently for a lot of his antigravity cardio workout. Further the actor follows the 'CrossFit' workout regime! Before we dig deep into his diet and workout regime, let me reveal, whether you love it or hate it, crossfit has found its place in the fitness world. If you are not sure what you think about this workout style then you should try one of those crazy(sometimes they can be brutal too) workouts before you decide.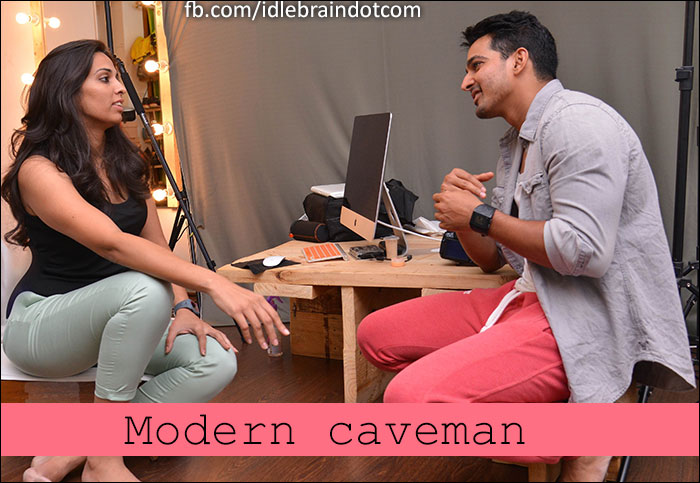 THE MODERN CAVEMAN!
Oh! Wait a minute! But what does he eat to survive such tough workouts?! Harsh doesn't eat nutrients, he eats food. Food as in 'Real Food!'No supplements, no energy drinks or protein bars. His diet is beyond packaged cereals and multigrain breads. The actor swore by what is known as "Caveman Lifestyle" to get fit and live healthy. Harsh is a modern caveman! No, he is not moving into a jungle with his spear! He knows that cars, cell phones and plastics are here to stay. All he did is integrating the caveman diet into his busy lifestyle and reaping it's proven benefits. This diet doesn't require you to count calories. Incredible! What a concept! With this diet you subscribe to eating small, balanced meals of protien, healthy fats and moderate carbohydrates every two to four hours. The quantity; Listen to your body and adjust as necessary. Another part of the caveman concept is to lessen or drive out foods we did not evolve to eat. In precise, the modern junk foods that are mismatched to older genes from the Stone Age.
Diet Plan
Meal 1- 5 to 6 egg whites
Meal 2- After 2hrs, One whole fruit
Meal 3- Lunch at 1:30pm, boiled meat like chicken or mutton + veggies adjusting the quantity according to the body's need
Meal 4: 5 to 6 egg whites around 4:30pm
Meal 5- One whole fruit around 6:30pm
Meal 6- Dinner would be same as Lunch
He adds flax seeds to his diet and snacks with mixed dry fruits whenever he wants to. Harsh drinks four to five litres of water per day and also a little away from this diet though, drinks a cup of milk before he goes to bed.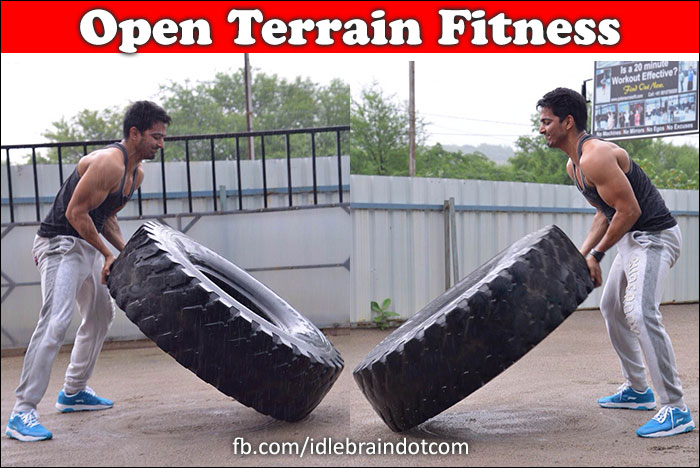 OPEN TERRAIN FITNESS
For cavemen, the open terrain was their gym, but modern man has access to endless forms of exercise, from CrossFit, yoga, TRX, kickboxing, weight training, dance,…The list goes on and on. And harsh does it all and even more. As I text him to jot down his regime, I get a voice message saying " Arey yaar, you tho know it all about my workout and diet", followed by a little about his diet regime and an endless list of his workouts. Harsh does everything friends, whatever gets him up and moving, he considers quite many natural principles to maximize his workouts and fat burn.
He does whole body exercises. Just like cavemen, harsh runs miles, treks sometimes, swims a little. He simulates muscular challenges by practicing whole-body lifts such as squats, presses, kettle-bell swings and even tried-and-true sit-ups and pull-ups.
Workouts:
Crossfit - Kettle-bell swings, Rope climbing, Box Jumps, Battle Rope workout, Tyre Flips.
Kick boxing -
Trampoline -
Gym & Yoga-
An ideal workout if you are planning all or many of the above would be three to four times a week, starting with full body stretches for 20 minutes.
Playing shuttle badminton occasionally also goes into the actors regime, he is not specific about counting numbers even with fitness. He works out till exhaustion. The workouts Harsh does are wild and crazy and folks, try the battle rope workout, if you squat and try to swing the rope, there would be a spectacular creaking and groaning you would find yourself doing along with the swinging action only to lose your balance within two or three reps. He does his headstand with so much ease and it feels like he can hold it for any long. Harsh swings and hangs around the parallel bars just like a born athlete, of course it his genes that partly have to be credited since his grandfather was an army man and his father was a considerably fit guy too. It seems for this hero, fitness is like love, he finds it everywhere and in many things and doesn't go looking for it.
So friends, have you tried a crossfit style workout yet or are you waiting for the industry to go gaga?! Wake up and make love to your muscles. Crossfit teaches you to kick more fun into the workout and helps you to achieve lot more than doing curls in front of the gym mirror. Waiting for you all to pair your fun in the sun and the rain and get fit the caveman style.
by Purnima Mandava
Other celebrity fitness articles by Purnima:
• Rana Daggubati

About the author - Purnima Mandava:
The writer is a celebrity and corporate health & fitness coach by profession. She is a research scholar on nutrition from UCLA. Purnima is an International Athlete, a National level Basketball player and Volleyball player by passion, also a fitness writer by hobby.
Reach her at [email protected]