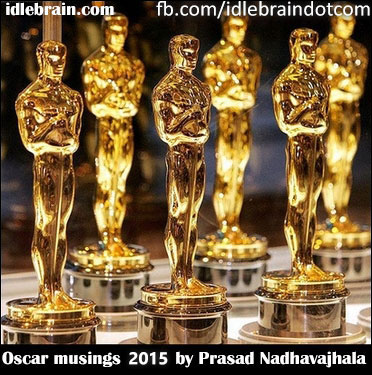 20 February 2015
San Francisco
Best Film: 'Birdman' vs 'Boyhood'
Best Director: Alejandro Iñárritu ('Birdman') vs Richard Linklater ('Boyhood')
This year's Oscar race for the two top prizes is the closest in the recent memory and will spoil many prediction ballots. Will Academy split Best Movie/Director and award both films? Or go with the same film in both categories and send the other great film empty-handed? Attention folks, this year's Oscar ceremony on Sunday night will go down to the wire!
"Boyhood" is a rare phenomenon in the history of movies. Director Richard Linklater (who earlier made 'Dazed and Confused', 'School of Rock' and the famous trilogy 'Before Sunset', 'After Sunset' and 'Before Midnight') took on a bold experiment of shooting a coming-of-age story for 12 years with the same actors. Ever since it premiered at Sundance Film festival last year, the film was flooded with rave reviews. While Linklater and his Editor of 20 years, Sandra Adair (sure winner this year), painstakingly stitched the scenes shot over 12 years into a 2hour 46min film 'Boyhood', Iñárritu and his famous Cinematographer Emmanuel Lubezki (won last year for 'Gravity' and another sure winner this year) brilliantly made 'Birdman' with single long shots through hallways and streets of Broadway. Mexican director Alejandro Iñárritu ('Amores perros', '21 Grams', 'Babel' and 'Biutiful') delivered a spectacular cinema experience in 'Birdman' with an impressive ensemble cast of Michael Keaton, Emily Stone, Edward Norton, Naomi Watts and Zach Galifianakis.
Best Actor award is also for a toss this year and is primarily between Michael Keaton ('Birdman') and Eddie Redmayne ('The Theory of Everything'). After capping his career with 'Batman' and 'Beetlejuice', Keaton was not seen much on screen recently and suddenly came back with a bang with his best ever performance in 'Birdman'. As ex-superhero Riggan Thomson, he was brilliant and witty. That crazy scene with Keaton running in his underwear on the streets of New York's Time Square in one continuous shot will now be the permanent part of Hollywood folklore! Keaton was poised for Oscar glory when Eddie Redmayne came out of nowhere with a moving portrayal of Stephen Hawking in 'The Theory of Everything'. It was sad that Hawking's debilitating ALS disease was the highlight of the film and not his triumphs as an astrophysicist. Redmayne was transformative as a patient with the slow progression of Lou Gehrig's disease and even Hawking and his family appreciated the actor's portrayal. As per the Academy's unwritten theory, actors playing disabled characters always win and Redmayne will take home "Best Actor" Oscar.
While the above races are super tight, other acting honors are easily predictable. After charming the cinegoers with memorable performances over the years, Julianne Moore will finally win "Best Actress" Oscar for her role in 'Still Alice' as a linguistics professor with early-onset Alzheimer's disease. J.K.Simmons of 'Law and Order' and Farmer's Insurance ad fame is expected to win "Best Supporting Actor" as the brutal jazz instructor in 'Whiplash'. Patricia Arquette is everyone's favorite to win the Best Supporting Actress Oscar for 'Boyhood'. 'Boyhood' was Ellar Coltrane's film but Patricia stole the climax with her superb outburst of a single mother as her son was leaving home to the college.
In any other year, Wes Anderson and his 'The Grand Budapest Hotel' would have swept the Oscars. Due to the stiff competition from small indie films, the film will be left out of Best Movie and Director accolades. But the whimsical Wes Anderson will win his first Oscar on Sunday night for 'Best Original Screenplay'.
Another interesting category to watch on Sunday is "Adapted Screenplay". 'The Imitation Game' is the front runner here but 'Whiplash' may throw a surprise. Damien Chazelle, writer-director of 'Whiplash', made a short film based on his experiences in the Princeton High School Studio Band. This short film made a splash when premiered at Sundance Film festival and later he developed Adapted Screenplay for a film from his own Short.
Background score of 'Interstellar' was spectacular while watching the film but the music in 'The Theory of Everything' would haunt you for days after leaving the theater. Soundtrack of 'The Theory of Everything' by Icelandic composer Jóhann Jóhannsson is the best of the year and the tracks "Cambridge, 1963", "A Model of the Universe" and "The Dreams That Stuff Is Made Of" are the stuff evergreen compositions are made of. Jóhann will win Academy award for his first nomination this year beating out double nominee Alexandre Desplat ('The Grand Budapest Hotel' and 'The Imitation Game').
Though 'The Lego Movie' was snubbed in "Best Animated Feature", its theme song "Everything Is Awesome" is in the running for "Best Original Song". But Oscar will go to another snubbed movie "Selma" for the song "Glory" by John Legend!
Clint Eastwood's 'American Sniper' collected more money than the combined collections of rest of the other films in Best Movie category. This movie received some major nominations but the film has to settle for one or two Sound awards.
My predictions for Oscar night:

Best Picture: 'Boyhood'
Best Director: Alejandro González Iñárritu ('Birdman')
Best Actor: Eddie Redmayne ('The Theory of Everything')
Best Actress: Julianne Moore ('Still Alice')
Best Supporting Actor: J. K. Simmons ('Whiplash')
Best Supporting Actress: Patricia Arquette ('Boyhood')
Best Original Screenplay: Wes Anderson ('The Grand Budapest Hotel')
Best Adapted Screenplay: Graham Moore ('The Imitation Game')
Best Film Editing: Sandra Adair ('Boyhood')
Best Cinematography: Emmanuel Lubezki ('Birdman')
Best Animated Feature: 'How to Train Your Dragon 2'
Best Foreign Feature: 'Ida'
Best Documentary Feature: 'Citizenfour'
Best Music (Original Score): Jóhann Jóhannsson ('The Theory of Everything')
Best Music (Original Song): "Glory" ('Selma')
Best Sound Editing: 'American Sniper'
Best Sound Mixing: 'Whiplash'
Best Visual Effects: 'Interstellar'
Best Production Design: 'The Grand Budapest Hotel'
Best Costume Design: 'The Grand Budapest Hotel'
Best Makeup and Hairstyling: 'Guardians of the Galaxy'
Prasad Nadhavajhala can be contacted at [email protected]

Past articles:
Oscar musings 2014
Oscar musings 2013
Oscar musings 2012
Oscar musings 2011
Oscar musings 2010
Oscar musings 2009