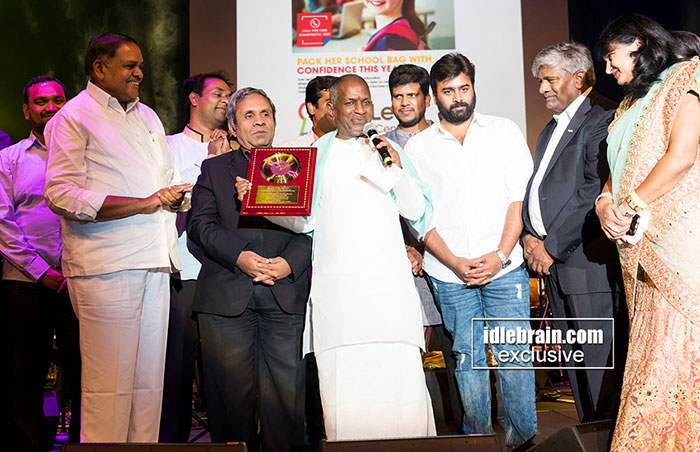 To feature your NRI communty news in idlebrain.com, please mail us at [email protected]
14 September 2016
USA
Padmabhushan "Ilaiyaraaja" enthralled nearly 5000 cheering audience in, San Jose, California. He gave a non-stop musical performance from 6.30pm to 10:30 pm. This was the one and only "Exclusive Telugu concert of Maestro IlaiyaRaja". On this occasion the Bay Area community presented "Sangeeta Kala SarwaBhouma" title to Maestro IlaiyaRaja sir.
This concert was hosted by, Bay Area Telugu Association (BATA), Swagat Entertainments, Lavanya Duvvi & You Smile Dental. Thousands of guests have arrived the venue ahead of the time. Mr. Jayaram Komati (Swagat Entertainments), Vijaya Assuri (BATA), Lavanya Duvvi & Dr Murthy Vuppala jointly welcomed the audience and said that the team has been working for last few months in making it a grand success. MC for the evening, popular actor Prakash Raj, who came all the way from India mentioned he is extremely excited to anchor the event & it was a dream come true. He invited Ilaiyaraaja "Sir" onto the stage.
The program started with Guru Brahma Guru Vishnu slokam and then Maestro dressed in traditional white Dhovatti & Kanduva entered the stage amid thunderous applause and started with wonderful song from "Thai Mookambikai"- the evergreen "Janani Janani". Maestro delivered the song in a commendable way.
For music lovers drawn from Telugu community in and around Bay Area and far away places,, it is a feast to the eyes and ears as they could see all their favorite music celebrities at one go namely Chinn Kuyal K.S.Chitra, Karthik, Mano, Sadhana sargam, Priya, Anita, Ramya and above all the Music Maestro Ilaiyaraaja.
Ilaiyaraaja sir, the old thespian of the Music industry, used his magic box (Harmonium) and pulled out popular melodies of last two to three decades from Telugu films. For the audience, it is one after another popular hit songs.
Some of the songs performed:
Janani Janani, Om Shivoham (Nene Devudu), Ninnu Koori Vranam (Gharshana), Keeravani (Anveshana), Abba Nee teyani Debba (JVAS), Ade Neevu (AbhiNandana), Balapam Patti (Bobbili Raja), Eenade Edo Ayyndi (Prema), Ekantha Vela(Anveshana), MaateMantramu (Seeta Koka Chiluka), Vennello Godari Andam (Sitara), Jallantha kavvintha (Geetanjali), Sandya Raagam (Indra Chandra), Priyatama (JVAS), Vedam Anuvanuvuna (Saagara sangamam), Sirimalle Poova (16 ella Vayassu), Enno rathru Vastaye Kaani(Dharma Keshtram), Yedutha Neeve(AbhiNandana), PremaEntha madhuram (AbhiNandana), Yamaho Nee Yama (JVAS), Oo Priya Priya (Geetanjali), Mounamela Noi (Saagara Sangamam), Lalitha Priya Kamalam (Rudra Veena), MaataRaani Mounamidhi (Maharshi), Induvadhana (Challenge), Jilibili Palukula (Sitara), Giliga.. GiliGiliGaa(Rakshasudu),Kalaya Nijamaa(Coolie #1), Botony Padamundi(Siva) etc
Every song is big hit and popular number. The audience were treated to some of the most haunting melodies one after the other.
Ilaiyaraaja sir said that music is more than temple and people with their love for music shall not kindle it.
In addition to the legend singers, the large orchestra and backing vocals was a feast to hear and watch. Over 50 musicians on the stage with different instruments really took the songs to the utmost high-level leaving the audience speechless and glued to the chairs for entire concert till the end.
There was a huge support for this event from the businesses – Movers.com was the event presenting sponsor. Syed Ahmed (Intero), Trinethra, Pista House were the platinum sponsors. Vibha, MyTax Filer, Satya Dasari, Cavirin, Peacock Indian Restaurants, Apex consulting were the Gold Sponsors. PNG Jewelers & I Bridge. were the Silver sponsors. Additionally, Virijallu Radio, Desi 1170 AM, 92.3 FM were the exclusive Radio partners.
Sri Mandali Buddha Prasad (AP Dy Speaker), Venkateshan Ashok (CG – SFO), Popular Actors Prakash Raj & Naara Rohit were some of the VIP guests attended the event.
BATA executive committee consists of: Sirisha Battula (BATA President), Yaswanth Kudaravalli (Vice President), Sumanth Pusuluri (Secretary), Harinath Chikoti (Treasurer), Srikar Boddu(Jt Secretary),
Cultural Committee – Sridevi Pasupuleti, Srilu Veligeti & Deepthi Satti
Logistics Committee – Kondal komaragiri, Arun Reddy, Prashant Chinta & Naresh Gajula
Steering Committee – Ravi ThiruVeedula, Kamesh Malla & Kalyan Kattamuri,
Advisory Board - JayaRam Komati, Vijaya Aasuri, Veeru Vuppala, Prasad Mangina, Ramesh Konda & Karun Veligeti, thanked all the audience for gracing the occasion and making it a grand success and all the sponsors for their continued support.