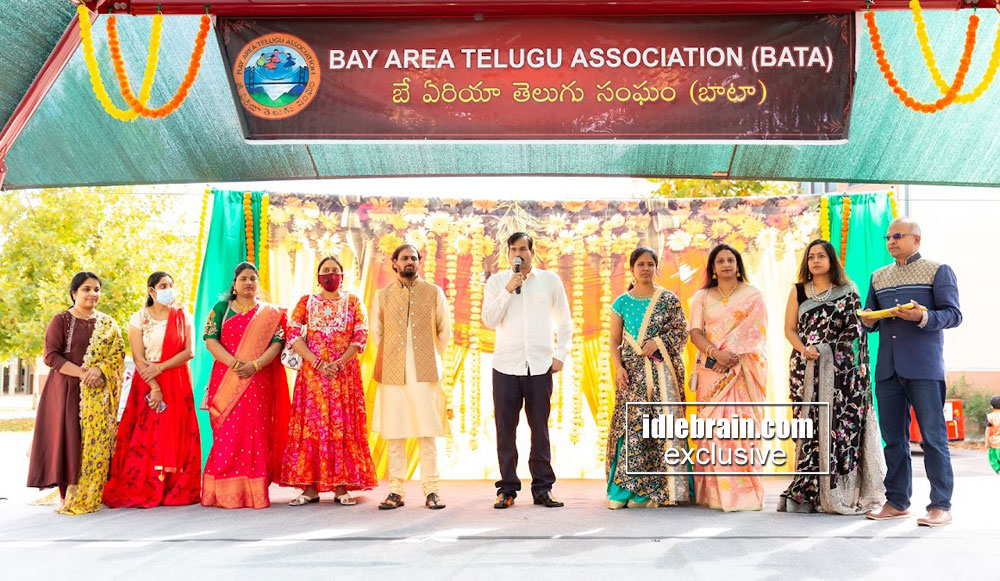 To feature your NRI communty news in idlebrain.com, please mail us at [email protected]
01 November -2021
USA
BATA CELEBRATES "DEEPAVALI" SAMBARALU IN A GRAND WAY
Bay Area Telugu Association (BATA) celebrated auspicious "Deepavali" (దీపావళి) in a grand style. It is one of the BATA "flagship" events and is very popular among the Bay Area Telugu community. The event received tremendous support from the local community & was celebrated in San Ramon/Dublin tri-valley, California. The event started at 11:00 AM and went on until 7:00 PM. It was an outdoor event and all covid norms were followed.
The event's associate sponsor was "Sanjay Taxpro".
Powered by realtor "Nagaraj Anniah"
Gold Sponsors – Srini Goli Real Estates, PNG Jewelers & Apex Consulting.
Silver Sponsor: Azad Financial services & TraveloPod
The event was supported by TANA & " పాఠశాల " (Paatasala Telugu School)
Food Sponsors: Sri's Kitchen & Cakes and Bakes
Media partners are Virijallu & Bolly 92.3 FM
The event had Clothing, Jewelry, RealEstate, Educational & Health care vendor booths.
The San Ramon city mayor, council members, and other dignitaries attended the event and congratulated BATA team for a successful event
Program Highlights:
1. BATA DANCE IDOL
2. MOM AND DAUGHTER FASHION SHOW
3. FANCY DRESS
4. LANTERN FESTIVAL "దీపోత్సవం" Spectacular Light Show
5. CLASSICAL DANCE BALLET ఆనంద భైరవి ( by Shiva Noopuram school)
6. CARNIVAL GAMES & AMUSEMENT RIDES
7. Superhit Dhamaka - Musical program by talented BATA Karaoke singers
8. MOUTHWATERING FOOD MELA
9. VENDOR BOOTHS WITH EXQUISITE CLOTHING AND JEWELRY
10. Paatasala Certificate (యోగ్యతా పత్రాలు ) presentation
11. ENERGETIC YOUTH DANCES
12. DIWALI DANDIA Grand Finale

BATA cultural team members conducted training classes at various locations – Fremont, San Ramon, Dublin, Milpitas, Cupertino & San Jose. The team thanked all the participants for their cooperation.
Harinath Chikoti (President) thanked all the BATA volunteers for their hard work and for making the event a grand success.
BATA executive committee consisting of:
Kondal Rao (Vice President), Arun Reddy, Varun Mukka & Shiva Kada.
"Steering Committee" includes, Ravi Thiruveedula, Kamesh Malla, Sirisha Battula, Yashwant Kudaravali & Sumanth Pusuluri.
"Cultural Directors" include Sridevi Pasupuleti, Srilu Veligeti, and Taraka Deepti.
"Nominated Committee" Hari Sannidi, Suresh Sivapuram, Sarath Polavarapu, Sanketh & Sandeep
Youth Committee – Aditya, Harish, Uday & Kranti.
BATA "Advisory Board" Jayaram Komati, Vijaya Aasuri, Veeru Vuppala, Prasad Mangina, Karun Veligeti, Ramesh Konda & Kalyan Kattamuri congratulated the team in making the event a grand success.

From TANA Sateesh Vemuri (TANA Secretary) & Ram Thota (TANA RR Northern Cal) attended the event.