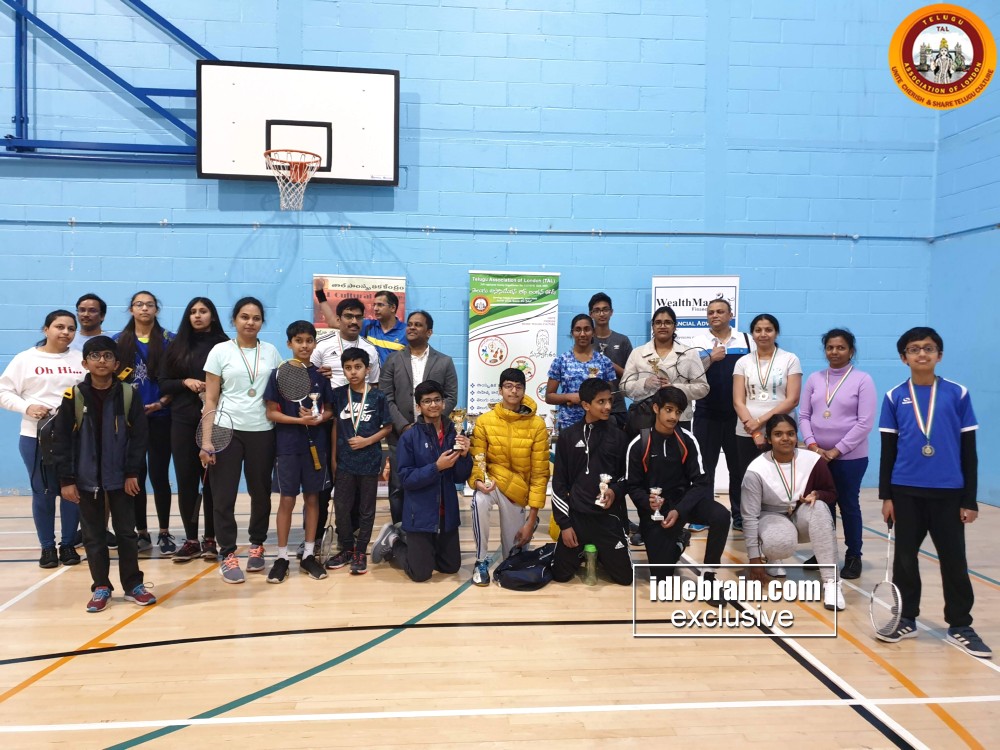 To feature your NRI communty news in idlebrain.com, please mail us at [email protected]
8 April 2019
USA

Telugu Association of London (TAL) have concluded the TAL Badminton Championships being organised in London on Saturday 6th April 2019 at Osterley Sports & Athletics Centre, 120 Wood Ln, Isleworth TW7 5FG. Telugu folks from London and surrounding counties have come to witness the tournaments where more than 100 Telugu speaking players have participated in Men's Doubles, Men's 40+ Doubles, Mixed Doubles, Women's Doubles and Kids under 13's Doubles. TAL Chairman Sridhar Medichetty thanked the sports trustee Murali Thadiparthi, co-ordinators Rajesh Veeramachaneni, Balaji Callur, Rajesh Toleti and Sudhakar Gubbala along with all the volunteers and participants who made the event successful.
Results from tournament are as follows:
Category
Winners
Runners Up
2nd Runners Up
MENS DOUBLES
Sriram Chakravarthy &
Rakesh Borancha
Razaullah Shaik &
Rajendra Babu
Rajesh & Sharma
Voleti
Vivek & Murali
MENS 40+ DOUBLES
Veerendra Ande &
Naveen
Rajesh Toleti &
Sudhakar Gubbala
Rajesh V & Venu
Venu & Srinu
WOMENS DOUBLES
Nikitha & Lahari
Harshitha & Sneha
Sarita & Vaishnavi
MIXED DOUBLES
Rakesh Borancha & Som
Sarita & Suresh
Rajesh Toleti &
Hamsa Praveen & Lahari
KIDS UNDER 13'S
DOUBLES
Uday Subramanyam &
Samhith Madan
Surya Chandakar &
Tanish Konda
Shreyas & Shashank
Nandu & Likith
TAL Chairman Sridhar Medichetty, Treasurer Sridhar Somisetty, Trustee Rajesh Toleti, Core team members Ravi Kumar Vasa and Balaji Callur distributed prizes to the winners.