Story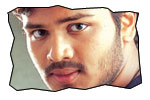 Vasu (Manchu Manoj Kumar) is a playful and reckless guy who always gives least attention to his father's words of wisdom. In one such incident he loses the trust and faith of his father as he gets involved in teasing a girl called Vijji (Sadaf). That incident makes Vasu realize the importance of having good relationship with his father. But father asks him to prove himself as a responsible man. Vasu travels to Vizag from Tirupati in search of a job. And incidentally Vijji also moves to Vizag. The rest of the story is all about how he proves himself to be a responsible man and how he and Vijji settle their scores in love.
Artists Performance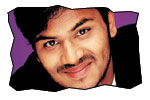 Manchu Manoj Kumar: Manoj impressed everybody with his histrionics and dialogue delivery. His voice is a gift from his father Mohan Babu. He can render dialogues with the same kind of bass that Mohan Babu has. He has got tremendous spontaneity in performance and a pleasant screen presence. Performing the pathos scenes right in the first film is pretty hard. Manoj managed it in a convincing style. He has got good comedy timing and mass orientation as well. His boy-next-door and not-handsome looks would help him in doing roles that would make the majority of youth identify themselves with him. He appears over weight. If he could reduce his weight by at least 20%, there would be no stopping for him.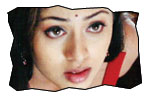 Heroines: Sadaf is good as the chirpy girl. Her performance is excellent in the road climax scene. But her make-up is overdone in few scenes in the first half. New actress Varshita did better in song than in scenes. She liberally exposed her beautiful, smooth and long legs for the only song she performed.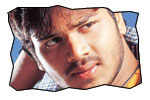 Others: Malladi Raghava is believable as the timid, traditional father. Manikya Vinayakam is good as the strict father and the dubbing by Vizag Prasad helped him. Though started in a routine mode, Sunil's comedy got better as the movie progressed and his satire on Tagore evoked the maximum response. Rajiv Kanakala is appropriate in the positive character of hero's studious brother. Dharmavarapu Subramanyam and Varsha are fair.
Technical Departments: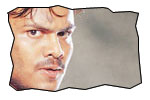 Story - screenplay - direction: Story of the film is good and time-tested one. It is about how a reckless guy learns how to be a responsible youth by realizing the strengths of family bonds. Screenplay of the film is little haphazard in the first half and gets better in the second half. Direction of the film is OK. The director succeeded in getting the feel of son missing the love/warmth of the father and the repentance after being the cause of trouble for his brother.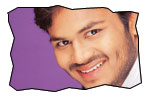 Other departments: Dialogues by Chintapally Ramana are good and naughty at times. Dina's Music in this film is a let down. The better song among the tunes is 'Manmadha Raja'. Fights by Stun Siva are good. Photography by Ajay Vincent is also good. Editing by Marthand K Venkatesh is fair.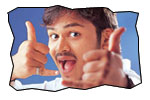 Analysis: First half of the film is average. Second half is better. Climax is good. Lots of characters in this film were not given proper finishing. Plus points of the film are Manoj and dialogues. Minus point of the film is music. This movie could become a minimum guarantee movie as it caters to youth, families and masses. This movie would have been a definite blockbuster if it had good music and if it were directed by a Telugu director who knows the sensibilities/likes of Telugu movie lovers better.
Donga Dongadi Links
Photo Gallery
Muhurat
Audio Function