Story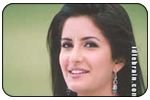 Malliswari (Katrina Kaif) is the heiress of Raja of Mirjapur. Her deceased father wrote in his will that she would inherit the property worth 750 crores after she becomes major at the age of 21. The entire property is under the care-taking of Bhavani Prasad (Kota Srinivasa Rao), who wants to inherit the entire property by killing her. As he hatches the plans to eliminate Malliswari, she is sent to Vizag to a relative's place as a normal girl so that she can live with anonymity.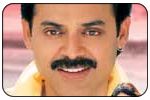 Prasad (Venkatesh) works as bank accountant in Andhra Bank at Vizag. He is a bachelor who has been desperately seeking for marriage alliance for the past seven years. He would be looking at every unmarried girl with dreams in his eyes. Just call him 'Pellikaani Prasad' and he would get instantly irritated. He accidentally meets Malliswari and falls deeply in love with her.
Malliswari is traced by the goons in Vizag and they start running after her. Prasad escorts her and drops her safely in Hyderabad. To know what happened next, you must watch Malliswari on a big screen.
Artists Performance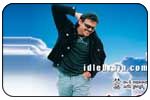 Venkatesh: It's a typical role for Venkatesh and he donned it with uttermost ease and finesse. His comedy timing is impeccable. He put on a little bit of weight and it added to the characterization of bachelor (mudiripoyina bendakaya). The director should get lot of credit for the characterization of hero role who is desperate to get married. The desperation is so high that when he meets villain for the first time, he utters the following dialogue while leaving ...
"Naa Peru Vara Prasad
Vizag Andhra Bank lo Vudyogam Chestaanu.
Naa Jeetam nelaki 9 velu
Neeku emanna sanbhandaalu teliste cheppu
Nakasale Caste Feeling kooda ledu"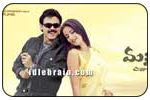 Katrina Kaif: Katrina Kaif is apt for the role of princess. She is extremely elegant in princess attire. Sunitha dubbed her voice and it suited her. But she is average in other scenes where she is expected to be a girl-next-door in Vizag.
Others: Gajala did an item song and she is good. Pop singer Smita did a negative role in this film. It's a little unglamorous role and she did very well. Kota is good, as usual, as the villain. After Venkatesh, Brahmanandam has got top priority in generating comedy followed by Sunil, Rajitha and Hema. Balayya, Tanikella Bharani, Rajyalakshmi, Naresh, Sana etc did well.
Technical Departments: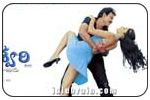 Story: When I saw an interview of Venkatesh in a local TV channel, he described 'Roman Holiday' as one of his favorite English films. And now I understand why he Okayed this story. The storyline of the film has the shades of Hollywood classic 'Roman Holiday'.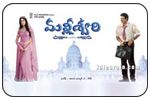 Screenplay - direction: The best part of the film is the excellent characterization by Vijaya Bhaskar. The screenplay is neat. And direction is impeccable. Though he stuffed ample comedy in the film, he made sure that there is an undercurrent emotion. All the action sequences in the film are natural. There is not even a single forced fight. The director opted for a no-nonsense climax and justified it. Vijaya Bhaskar never seems to be getting tired of delivering super hits - Swayamvaram, Nuvve Kavali, Nuvvu Naaku Nachchav, Manmadhudu and now Malliswari. That's too in a row!!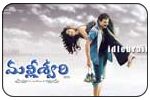 Dialogues: Trivikram gets the top credit for sensible dialogues that injects sweet poison into the film and then make you watch the film again and again. The problem with Trivikram is that he gives one-liners so quickly that you forget the earlier dialogue while listening to latest one-liner. Trivikram who is known for writing super comedy dialogues has come up with a hilarious-yet-very-punchy mass dialogue for Venkatesh. Here is the dialogue he utters when he confronts Kota for the first time -
"Nee Vayasu 50 daatindi
Nuvvu chakkera tinte sugar
uppu tinte BP
kaaram tinte Ulcers
Sarigga Bhojanam chestene chachipotaavu
Neekendukuraa ee aasti meda aasa?'

Kota utters a dialogue in the beginning of the film 'Every fortune in the history is made with a crime' that justifies crime angle.
All the dialogues written in Venkatesh - Brahmanandam combination are hilarious. Especially the ones while Brahmanandam takes Venky to the dining hall.
There is a heart-touching sentimental dialogue like
'pani chesi jeetam adagochu
appichi interest expect cheyyochu
kaani help chesi thanks kosam eduruchooda koodadu'

There is another mass-oriented dialogue that assures safety and love to heroine
"Nenu chachina Tarvathe Nuvvu Chastaavu'
The dialogues in the scene where he promises that he gives the world's best comforts with his 9k salary is very cute. The dialogues for beach episodes are very good.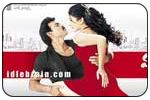 Music: Songs by Koti are OK. Background music is good. The first song of film with Gajala is hilarious. Picturization of Malliswari's title song is impressive. The blending of songs in to the film and picturization of other songs should have been better.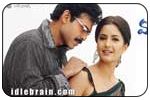 Other departments: Photography by Sameer Reddy is first rate. Editing by Srikar Prasad is crisp. Stunt sequences by Stun Siva are impressive. Lyrics by Sirivennela are simple and effective. Artwork is impressive and locations chosen are worth a look!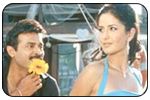 Production: This film is made on a high budget of 10.5 crores with lavish production values. This film would bring smiles for D Suresh Babu as the last 5 films (Harivillu, Viajayam, Hai, Gemini and NNNN) of Suresh Productions did not do well at box office. He should be commended for selecting the right team and then providing the right ambience for the highly talented technicians.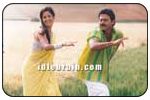 Analysis: First half is very interesting with series of hilarious scenes. The emotion catches up in the scene where a pressmeet is held in second half to announce Malliswari as the heiress to the 750 crore property. The same emotion is carried till the climax of the film. The climax is very impressive. The strength of the film are dialogues by Trivikram, direction of Vijaya Bhaskar and histrionics by Venkatesh who managed the entire show single-handedly. The only thing that does not live up to the high expectations are the songs in the film. The narration of the film is slow, just like any other Vijaya Bhaskar's films. This film is best recommended for the family viewing. You should watch it at least once.
Trade aspect: Malliswari is opened with terrific crowds all over the state. This film is declared as a good hit all over. The range of the hit would depend on how this film is received by hardcore masses in lower B and C centers.
Tail piece: I have booked the next available Malliswari's show at Prasads immediately after watching the morning show. The sweet-poisonous comedy in any Trivikram-Vijaya Bhaskar film makes you get addicted and nobody is an exception to this..
Malliswari links:
Photo Gallery
Wall Papers
Audio Function
Pressmeet-1
Pressmeet-2