Story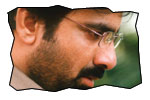 Seenu (Ravi Teja) walks down his memory lane as he distributes wedding cards to each and every friend he has grown up playing with. Seenu is a lucky guy to have got a girlfriend for each passing phase of his life.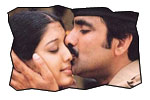 Seenu befriends Vimala (Mallika) in his boyhood stage and studies with her till 10th class in Korukonda. His family moves to Kerala after completing his 10th class and he falls in love with another girl Lathika (Gopika). Then he reaches Hyderabad in search of a job. There he finds Divya (Bhumika Chawla) who inspires him to work hard and grow in life. And ultimately he marries a girl - Sandhya (Kanika) - of his parent's choice.
Artists Performance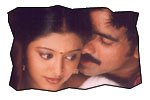 Ravi Teja looks pretty different and soft in this film. He mellowed down his reckless mannerisms to give a tender feel to his character. Master Bharat did well as the 10th class studying male lead. Mallika is appropriate as rustic girl with her dusky looks and innocent conduct. Gopika takes the main cherry in this film with a complete performance oriented role. She did extremely well. Bhumika Chawla is at home as the inspiring lady who sets her life as an example. Sunil is entertaining with his variety mustache and tight dressing. Venu Madhav sparks in a couple of scenes. Kanika (who made her debut in Telugu with a screen name Sravanthi in Ottesi Chebutunna) did a guest role as the bride of the hero. Dharmavarapu Subramanyam's characterization is embarrassing as he keeps on farting by making big sounds. Paruchuri Venkateswara Rao is good as the sympathetic father. Prakash Raj did a small routine role.
Technical Departments: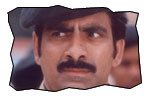 Story - screenplay - direction: Story of the film is a simple thread that is made up of events that takes place in everybody's life. To narrate such a story, the director needs to bring out the much-needed feel with a crystal clear narration. The narration of the film is pathetically slow. Director failed to make audience involve and identify themselves with the hero's character. Screenplay of the film is not tight.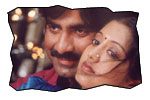 Music: Music by MM Keeravani is an asset. The best song in the film is the small bit of 'idi kaada LOVE' that is repeated twice. The film starts with 'Gurtukostunnayi' song, which is inter-spread all over the 1st episode (boyhood stage). 'Mounamgane' song is an inspirational song canned on Bhumika Chawla. The duet 'Manmadhude' on Ravi Teja and Gopika is sensuous. Background music is also good, but assumes artistic texture most of the times.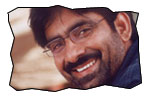 Cinematography: Cinematography by Sameer Reddy is worth commending. The way he captured Korukonda with wide lenses is appealing. He captured the greenery and backwaters of Kerala very well. However, squeezing the frames of Bhumika with a blue saturation at various times in 3rd episode is non-appealing.
Other departments: Dialogues by Paruchuri brothers are adequate. Artwork by Ashok is fair. Editing by KV Krishna Reddy is not crisp. Production values of 'Naa Autograph' are satisfactory.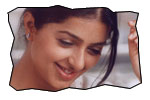 Analysis: First half of the film is average. Second half is boring. When such a tender story is narrated, the director should make sure that he transfers the mood of the film into the minds of viewers. But the director failed in creating the positive 'feel' for the film. Positive points of the film are artists' performance (Ravi Teja, Mallika, Gopika & Bhumika), photography and music. The negative points are narration and screenplay. This film is one example of remakes where the body is imported successfully without the soul. The lack of commercial elements might hamper the box office prospects of the film badly.
Naa Autograph Links
Sreya Audio Review
Photo Gallery
Muhurat
Audio Function