Story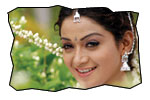 Rani (Rathi) is a beautiful village belle raised by her rich grandparents. Her grandparents are so possessive about her that they never even allow her out of their house to attend school. They fix up an NRI bridegroom for her. But he finds that she is too raw to be his wife in USA. Hence he wants her to modernize a bit. Then they join Rani in a grooming school called 'Pallaki' that teaches etiquette, cooking, dressing etc that grooms raw people into well mannered and sophisticated people.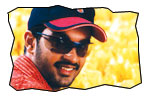 Gowtam (Gowtam) is a happy-go-lucky guy. His family (grandmother and parents) run the 'Pallaki' grooming school. Gowtam falls in love with Rani at the very first sight. They become good friends as well. Later on he realizes that Rani is due to get engaged to an NRI. Would Gowtam still try to steal her from NRI or let her marry NRI forms the climax of the film.
Artists Performance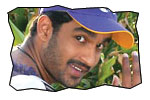 Gowtam: Gowtam - son of popular comedy artist Brahmanandam - is pretty average in looks and skinny in appearance. He grew a bit of light beard get the right look. He is average in histrionics departments. He imitated Pawan Kalyan's dialogue delivery and postures in most of the scenes. His dances are OK.
Rathi: She is pretty cute with her childlike appearance and chirpy attitude. The dubbing voice given to her is good to certain extent.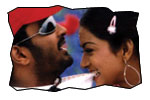 Others: The guy who did the NRI role is mediocre. The comedy track by Dharmavarapu, Sunil, MS Narayana, Shakeela and Venu Madhav is inane. Ravi Babu's comedy villainy is little irritating. Brahmanandam's comedy is partly good. Giri Babu, Telangana Sakuntala and Tanikella Bharani are adequate.
Technical Departments: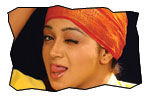 Story - screenplay - direction: Story is a typical Trivikramish one where a guy falls in love with a girl whose match is already fixed. But what needed for this kind of story is contemporary screenplay and delicate/sophisticated handling of characters. Debutant director Suchitra Chandrabose followed the beaten path of old fashioned filmmaking to narrate her story. Screenplay by K Raghavendra Rao is a very typical one which he has been following for the decades which has become rather predictable by now. There is a pleasant flowery touch of K Raghavendra Rao in conceptualizing and while canning songs.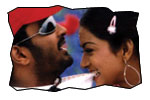 Music: Music by Keeravani is a plus for this film as the songs - even if you listen to them for the first time - sound very familiar. Probably Keeravani might have thought that it is easy to play the same beats/tunes, which are already known to audiences than taking pains of making audience register new tunes/beats. Background score is OK.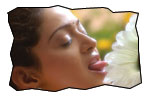 Other departments: Dialogues by Abburi Ravi are average. Cinematography by V Srinivasa Reddy is OK. But the lighting is not proper in certain scenes. Artwork by DY Satyanarayana is fair. Editing by Marthand K Venkatesh is adequate.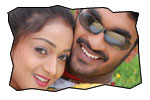 Analysis: First half of the film is mediocre. Second half is a let down. Plus points of the film are music, heroine and songs picturization. Negative points are old-fashioned filmmaking, predictable screenplay, non-contemporary treatment. Few scenes involving heroine looks quite illogical - being the most pampered member of wealthy family she does not even know how to say hi and how to handle the telephone. We have to wait and see if K Raghavendra Rao's ability to attract the masses and family crowds work for this film or not.
Gharshana Links
Sreya audio review
Photo Gallery
Wallpapers
Muhurat
Pressmeet
Audio Function
Rworld Showtime
Release centers