Story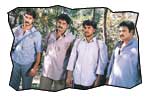 Four unemployed youth (Srinath, Rajiv Kanakala, Raja and Krishna Bhagavan) are vexed with the government's apathy towards the issues and problems in villages of AP. They go to Hyderabad to meet Chief Minister and tell him about the burning issues at ground level. But they could not get an audience with CM. Meanwhile, a car carrying the CM Chandra Rayudu (Anant Nag) and leader of opposition Rajendra Reddy (Sarath Babu) are blasted using claymore mines when they are traveling from Nalgonda to Hyderabad. As the entire world believes that these two important leaders of AP are dead, they are found alive in the capture of these four youngsters. These four youngsters request these leaders to stay in their village in disguise and observe what is happening in villages. Meanwhile, the number 2 in those political outfits starts their attempt at making governments. The rest of the story is all about how these political leaders understand the ground realities and change their attitude towards the problems of villages.
Artists Performance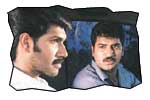 Anant Nag and Sarath Babu did the roles of Chandra Babu Naidu and Dr. YS Raja Sekhara Reddy respectively. Their get-up and mannerisms closely resemble these leaders. The four youth (Srinath, Rajiv Kanakala, Raja and Krishna Bhagavan) did their job well. Krishna Bhagavan excels with his comedy dialogues, though he hardly looks as a youngster. Amrutha is OK and she got a song and a few dialogues. AVS brilliantly portrayed the role of a mad man. Surya did a small role of ultras leader.
Technical Departments: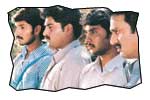 Story: In the olden days, kings used to visit the various parts of their kingdom in disguise to know the ground reality. But the present day leaders are so much occupied with the macro level management that they often ignore micro level issues which make people resent the existing government and politicians. Story of this film also deals with same issue.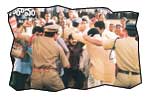 Screenplay - direction: Films of A Mohan Gandhi always have certain social angle and message orientation to them. This film too is aimed at educating the voters who are going to exercise their franchise during the elections in April 2004. Screenplay of the film is decent and direction is OK. The director succeeded in making a film that does not bore you. However, he should have taken proper care in the following issues -
1. When CM and opposition leader were blasted, the government declares them dead without even verifying the forensic evidences. However, these two leaders escape unscathed and continue living in good health.
2. The disguise of these leaders as village men is so simple it is very easy to recognize. The audience can easily identify them, but not the people on the screen.
3. Can't these leaders make a phone call to their family members and say that they are safe in stead of watching the proceedings of government on TV channels?
The movie would have been good if the above things are taken care of at script level.
Music: Music by Vandemataram is great and it is left-oriented. 'Edu Kondalavada' has got very good criticism on the hi-tech governance of present chief minister. 'Jatiya parvadinalu' song is also very good. Vandemataram's strength lies in scoring this kind of music and he excelled in it.
Dialogues: Dialogues by Marudhuri Raja are commendable. However the sound is edited by censoring officers in a vital scene. All the dialogues that put CM in red are edited.
Other departments: Camera work is adequate. Editing by Gowtam Raju is OK. Producer B Bhuivaneswara Reddy should be commended for coming forward to do a political awareness film in stead of a run-of-the-mill commercial film.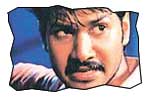 Analysis: Sankharavam is a political awareness film and preaches the government and political parties about the role they are supposed to play. It is not a boring film. The director tried to get some mileage by representing the characters of Chandra Babu Naidu and YS Raja Sekhara Reddy on the screen. However, the same representation made this film lose the much needed sting by trying to be neutral. All those political enthusiasts may watch this film once.
Sankharavam Links:
Audio function
Photo Gallery