Story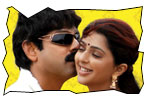 KK (Jagapati Babu) is a principled businessman who wants a perfect wife. He meets the match maker Vidya (Bhumika Chawla). Even while searching a right girl for KK, she herself falls in to love with him. And they get married and suddenly some incidents take place forcing KK to leave for the USA along with his daughter. There he meets Sailu (Anushka) who is distressed due to personal and financial problems. The rest of the story is all about the connection between KK and Sailu and what happened to Vidya.
Artists Performance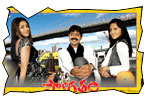 Jagapati Babu suited the character very well. He did really well in emotional scenes. Among the heroines, Bhumika Chawla walks away with honors because her characterization is well etched. Anushka who is generally known for sweet smile had to stay away from it because she donned the role of a distressed lady. Arjun did a guest, yet vital role in this film. Among the comedians, Ravi Babu's comedy (though vulgar) as a gay is a relief in the first half.
Technical Departments: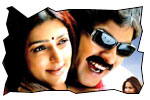 Story - screenplay - direction: Story of the film is little complicated and has a potential winner in it. The USA backdrop part of the film reminds us a bit of Kal Ho Na Ho. Car crash aspect seems to have been taken from 'An unfinished life'. Dasarath handled the budding love and relationship between Jagapati Babu and Bhumika in an entertaining and soulful way. But he could not get the thing right in the first half that handles with the depressed Anushka and enigmatic Jagapati Babu.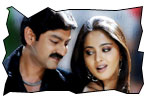 Other departments: Music of the film is adequate. Background music is alright. The meaningful and soul-stirring dialogues told in the flashback episode deserve special mention. Cinematography of the film is neat. Editing is alright. Production values are good.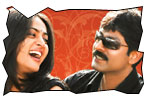 Analysis: First half of the film is very slow and mediocre. The flashback episode which almost spans for one hour in the second half is good. The plus points of the film are Jagapati Babu, Bhumika Chawla and the (entertainment + emotion in) flashback episode. The negative point is the first half. Jagapati Babu who is known as the successor of Sobhan Babu in attracting family crowds would not find it difficult to make the Swagatam film a minimum guarantee one.
Swagatam links
• Photo gallery
• Muhurat
• Wallpapers
• US schedules
Interviews
• Jagapati Babu
• Bhumika Chawla
• Dasarath
Jeevi reviews of previous 5 films
• Vaana
• Pourudu
• Krishna
• Mee Sreyobhilashi
• Anasuya
• Mantra
• Seema Sastri
More Reviews