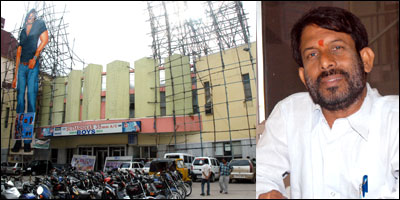 Sudarsan 35MM A/C theatre is one of the best theaters in Andhra Pradesh and was located at Chikkadapalli RTC X roads Hyderabad, A.P. This magnificent theatre was founded by industrialist Dr T Nandagopal, who is famous for the Devi ceiling fans in AP state. This theatre is owned and maintained by Mr. Nandagopal and every big producer in Telugu film industry loves to release their movies in this prestigious theatre. In 1975, Akkineni Nageswararao inaguarated Sudarsan 35MM A/C.
This theatre had a prestigious Dolby Digital Surround Ex sound system installed and had an excellent sound effects, its sound system will leave a great impact to the people who watch the movie on Silver screen.
Idlebrain correspondent met with Mr Jnaneswar at RTC X roads Sudarshan 35MM A/C, manager of the theatre had a talk with IB regarding the plight of the movie collections due to the abolishment of slab system in AP. AP Government decision of abolishing the slab system has had a major impact on the collections, but on a whole there was a considerable percentage of increase in the patrons. Due to the reduced ticket prices, full house of the theatre collection was dropped by the tune of approximately Rs 10,000.
Seating Capacity of theatre Class wise:
| | | | |
| --- | --- | --- | --- |
| Class | No of seats | Ticket price | Gross per show |
| Balcony | 525 | 35 | 18375 |
| 1st class | 317 | 33 | 10461 |
| Chair | 124 | 25 | 3100 |
| Floor | 250 | 10 | 2500 |
| Total | 1216 | - | Total Gross: 34436 |
B. Narsingarao movie 'Maabhoomi' had a distinct record of 365 days run at Sudarsan 35MM A/C, though the movie is screened one show a day(noon show).
Mahesh Babu Okkadu film has a marvelous record collection of 1.44 crores gross for 175 days, which is second highest single theatre gross for any movie in the annals of Telugu film industry. For the first time in the history of chiranjeevi movies, Indra collected a gross of more than one crore (1.18 crore) in a single theatre across the state in Sudarsan 35MM A/C.
According to the theatre manager, Allu Arjun "Arya" collected a record breaking share of 86 lakhs at Sudarsan 35MM A/C for 140 days, followed by Mahesh Babu Okkadu 85.5 lakhs share for 175 days. Mahesh also had a unique record of having two silver jubilee movies at Sudarsan 35MM A/C (Muraari and Okkadu). Ace Director Teja's sensational youth film 'Nuvvu Nenu" has collected a grand share of 75 lakhs at Sudarsan 35 MM A/C.
Youth love flicks like Premadesam, Premikudu and Nuvvu Nenu collected an outstanding share of more than 60 lakhs during their full run. Pawan kalyan movies Suswagatham and Balu abcdefgh released at Sudarshan 35MM A/C and had a 10 week run, Balu abcdefgh also collected a share of 22 lakhs share at Sudarshan 35MM A/C. Nitin starrer Sye had a terrific run and was house ful for 23 days and collected a total share of 42 lakhs for 100 days. Natasimha Nandamuri Balakrishna superhit movie Lakshmi Narasimha collected 28 lakhs share for 100 days run.
Below is the lists of Silver Jubliee movies at Sudarsan 35MM A/C.
1. Bobbili Puli
2. Maa Bhoomi
3. Premabhishekam
4. Murari
5. Kalisundam Raa
6. Okkadu
7. Mounaragam (morning shows)
Below is the list of 100 days movies
1. Padaharella Vayasu
2. Rangoon Rowdi
3. Edanthastula Meda
4. Katakataala Rudrayya
5. Paadi pantalu
6. Chillarakottu chittemma
7. Assembly rowdy
8. Rowdy gari pellam
9. Kaliyuga Pandavulu
10. Aakari Poratam
11. Swathi Muthyam
12. Ananda Bhairavi
13. Ravugopalarao gari ammayi
14. Premikudu
15. Premadesam(140 days)
16. Nuvvu Nenu
17. Jayam Manaderaa
18. Vasantham
19. Bavagaru Bagunnara
20. Chudalani Vundi
21. Sneham Kosam
22. Iddaru Mitrulu
23. Indra (140 days)
24. Arya (140 days)
25. Bunny
26. Sye
27. Lakshmi Narasimha
28. Secretary
29. Chilipi Krishnudu
30. Subhakankshalu
31. Matrudevobhava
32. Intlo illalu Vantintlo priyuralu
Note: All the above information is provided by the theatre management. There might be missing 100 days movies in the above list. Please feel free to mail us the missing movie info, if you happen to observe.