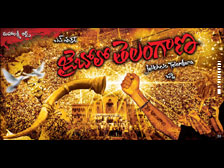 4 February 2011
Hyderabad
Write Jai Bolo Telangana review
Jai Bolo Telangana (Jagapati Babu & Smriti Irani) is released on 4 February 2011. Users of idlebrain.com can post their reviews along with the ratings here.
Here are the guidelines:
1. Only genuine reviews will be accepted.
2. The reviews should be specific to the movie with enough content. No reviews will be allowed that just say 'super hit', 'utter flop' etc. Reviews should have at least 50 words.
3. No personal attack on any cast/crewmember and no abuses are allowed.
4. Reviews copied from other sites/blogs will not be entertained.
Disclaimer:
The reviews/ratings given in these reviews are done by visitors and it's their personal opinion. Idlebrain.com is not responsible for the reviews/comments/ratings given by it's users.
58. Ala Modalaindi
57. Golkonda High School
56. Anaganaga O Dheerudu
55. Mirapakai
54. Ragada
53. Nagavalli
52. Rakta Charitra 2
51. Karma
50. Orange
49. Kalyan Ram Kathi
48. Baava
47. Rakta Charitra 1
46. Brindavanam
45. Khaleja
44. Robo
43. Saradaga Kasepu
42. Komaram Puli
41. Gayam 2
40. Thakita Thakita
39. Don Seenu
38. Maryada Ramanna
37. Jhummandi Naadam
36. Villain
35. Vedam
34. Golimar
33. Andari Bandhuvaya
32. Rama Rama Krishna Krishna
31. Simha
30. Darling
29. Prasthanam
28. Varudu
27. Maro Charitra
26. Taj Mahal
25. Inkosaari
24. Ye Maya Chesave
23. Leader