Story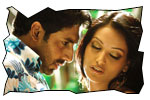 A (Hrithik Roshan) is the master of disguise. He plans heist operations, executes them perfectly all over the world, and leaves his trademark signature at the place of theft. It is Jai's (Abhishek Bachchan) job to trace and nab A. Jai, his sidekick Ali (Uday Chopra) and beautiful Shanoli (Bipasha Basu) form a trio to trap A. The rest of the story is all about the hide and seek games between A and Jai.
Artists Performance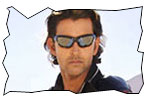 Hrithik Roshan: Hrithik Roshan's performance is super. The action choreography for Hrithik's gadget-frenzy character in this film is far superior to the choreography composed for the supernatural powerful character of Krrish. Hrithik's dance to the title song is superlative. He imitates Antonio Banderas in the sword heist scene. The superb style and grace he brings to the character of the super thief is beyond all expectations.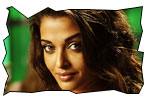 Others: Abhishek Bachchan sports a rugged look. His performance is fine, be it delivering smooth punch dialogues with nonchalance or teasing Ali with a deadpan face. Uday Chopra is cool as the witty but inept cop. Aishwarya Rai is good but looks tired in this film. Her performance in the bullet-shoot episode is very good. Bipasha Basu adds glitz to the cast with her effortless performance. Rimmi Sen is limited to a couple of scenes in the film to incorporate bigger names like Aishwarya Rai and Bipasha Basu.
Technical Departments: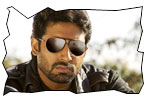 Story - screenplay - direction: The best thing about the film is style. The presentation of the main leads is fabulous. The story is good. Story, scenes and techniques in this film are a mixture of several Hollywood heist films. Direction is good. Screenplay is adequate. However, the plot has not developed well. Some of the characters (Bipasha Basu & Rimmi Sen) in this film are not well etched. The duel between A and Jai is great, but could have been shown more convincingly. The emotional bonding between Ash and Hrithik is not well established.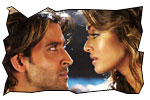 Other departments: Music of the film is good. Background music is exceptionally good. The music director has used a lot of Mexican music. Dialogues are effective. The graphics in the film are amazing. DI (Digital Intermediate) is perfect. Cinematography is superb. Editing is crisp. Artwork is great. Locations are extravagant. Makeup work for Hrithik is of world-class standard. Production values are grand.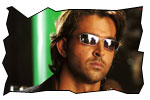 Analysis: The way the three heroes are introduced in this film is cool. The first half of the film is impressive. But the second half concentrates more on the love angle between Ash and Hritik.There are some dull moments in the second half. However, the stylish climax makes up for everything. Dhoom 2 is stylish, savvy, grand, peppy and modern. It is probably one of the most stylish films ever made in India. A must see!
Jeevi reviews of previous films
Vivah
Don
Dor
Phir Hera Pheri
Fanaa
Main Hoon Na
Ek Hasina Thi
More Reviews