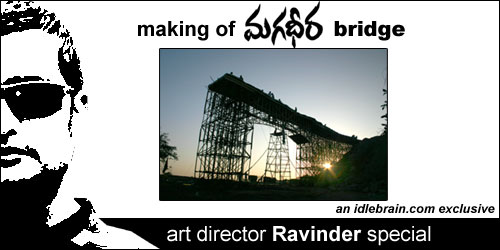 17 August 2009
Magadheera movie became a landmark film in the history of Telugu cinema by collecting unheard amounts at box office. Magadheera is a technicians' delight and we are in the process of getting their special interviews. In an exclusive series of interviews to idlebrain.com, art director Ravinder R explains us about various sets he has done for Magadheera movie.
Bridge for 100 warrior episode
set for Magadheera film
Bhairava Kona set and the bridge connecting it to was erected at Ramoji Film City and those episodes were shot extensively over there. But there was a catch. Rajamouli needed to capture the 100 warrior following from the bridge from a low angle and set in RFC was not permitting it. Hence we erected a separate half-bridge at Bhoot Bangla in Road No.22, Banjara Hills. It was the same place where the colony set for Chatrapati movie was constructed.
The height of the bridge is 60 feet and the length of the bridge is 100 feet. There is a original rocky hill and we constructed a half bridge there using steel beams as the skeleton and wooden material as the supporting thing. It took around 20 days to construct it and we had over 60 men working for it. And it was more difficult to construct it as it was raining during that time. We needed black soil to be placed on the road of the bridge and only at Ramoji Film City side that kind of soil was available. We had to transport 20 trucks of soil for the bridge road.
Other sets of Magadheera:
Making of chariot