June 26, 2008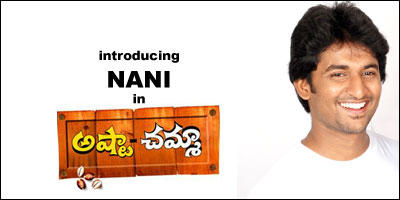 Do you know what is common between Siddartha, Ravi Teja in Telugu cinema AND Aamir Khan, Hritik Roshan in Bollywood? Yes, there were all assistant directors before they become actors.
Now, Art beat Capital is introducing Nani through Mohana Krishna Indraganti's "Ashta Chamma", one more assistant director who is joining the ranks of a main lead in Indian cinema.
23 year old Nani worked with Seenu Vylta and Bapu garu before auditioning for the main lead role in "Ashta Chamma". Nani worked as a Radio Jockey with World Space Radio and was quite popular as "Non Stop Nani".
The Producer and Directors point of view on Nani – " There were many "conventional" hero looking guys who turned up for auditions. When Mohan and I were going through the tapes, we were completely bowled over with the energy Nani brought into the frame. He performed like a true professional and knew exactly how to play the sample scene that was used for auditions. The main lead role in "ashta chamma" is a pretty complex, and needed a wide range of acting skills. We are proud that we are launching an actor of his caliber. Immensely proud. With his disarming charm and natural good looks, Nani will surely have a crazy female fan following for sure! He is a boy whom any girl can take home to and introduce to her parents!!
Nani says: "Being an A.D (assistant director) makes you privy to all the pressures of filmmaking be it direction ,camera or sets...the sweat and the grime behind all the gloss and the glamour.The pressures a director faces is immense..the struggle to translate what is in his mind to the face of an artiste and finally capturing it on screen.It is definetly the most demanding job.As an A.D you get a taste of all this and more.So once it was my turn to face the camera it was really easy for me to know where my director was coming from and what he wanted from me as an actor.Also having the basic knowledge of camera angles and being exposed to the shooting atmosphere played a huge role in putting me at ease. The unit being a very young and friendly unit also helped calm early nerves"
Know about Srini Avasarala (another find for Ashta Chemma film