Story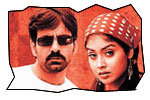 Krishna Lanka is an island in Godari districts. The only way of commuting to that island is by boats. Lots of people die due to bad whether conditions while they travel. Krishna Lanka's President Bullebbai (Vijay Kumar) wants to have a bridge to that island which costs several crores. He asks his IAS friend Venkata Ratnam (Prakash Raj) to make his dream come true. Even 20 years after Venkata Ratnam leaving the village, there is no news about the bridge. Bullebbai sends his son Chandu (Ravi Teja) to Hyderabad to meet Venkata Ratnam and know the progress. After coming to Hyderabad, Chandu realizes that Venkata Ratnam is very money-minded and is least bothered about bridge. The rest of the story is all about how Chandu makes Venkata Ratnam get the bridge approved by the government.
Artists Performance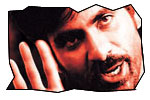 Ravi Teja's characterization has mass in appearance and class in attitude. There is lot of positive thinking in the character. Ravi Teja suited the role perfectly and did well. Shriya got a role in this film which has good connection with the story line and she did good. Prakash Raj is fine. Jeeva and Nassar were given good characters. Venu Madhav and Sunil comedy is good in parts.

Technical Departments: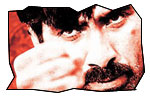 Story: Storyline of the film has soft orientation and positive attitude. Hero coming to city to do good deed for his village reminds us of Ravi Teja's film Veede. Hero and Prakash Raj's mind games thread reminds us of Mallidi Satyanarayana Reddy's first film Bunny.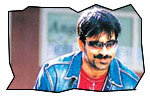 Screenplay - direction: Screenplay of the film is adequate. Direction is good in parts. The vital scene of the film where Shriya inspires Ravi Teja by saying that participation in race is more important than winning is good. However, the mass scenes in the film are not dealt in a way that creates right impact. Narration of the film is very slow. The following points were not convincingly told -
1. The reason behind Prakash Raj hating the village.
2. Prakash Raj's sudden change of heart towards village in the climax.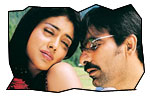 Other departments: Dialogues by Kona Venkat and Abburi Ravi are neat. Photography by Sunil K Reddy is good. Music by Chakri is mediocre except for a couple of inspired melodies. Editor made excessive use of opticals in the film. Stunts by Kanal Kannan and Ram Lakshman are fair. Artwork by Narayana Reddy is OK.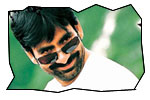 Analysis: First half of the film is adequate. Second half is pretty slow. Climax is very soft. Rasool's work is good in parts. Ravi Teja's typical dialogue delivery and casual one-liners do make us like his character immensely. On a whole, Bhageeratha makes an average fare.
Bhageeratha Links
Press Meet
Audio CD launch
Photo Gallery
Wallpapers
Rasool Interview
Jeevi reviews of previous 5 films
Premiste
Allari Pidugu
Chatrapati
Political Rowdy
Good Boy
More Reviews