Story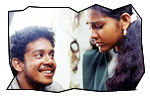 Aiswarya (Sandhya) is a rich adolescent girl. Murali (Bharath) is a poor uneducated boy who works as bike mechanic. They fall in love and Aiswarya's parents want to marry her off to a rich NRI. Aiswarya forces Murali to take her away from hometown Madhurai. They reach Chennai. The rest of the story forms the crux of the film.
Artists Performance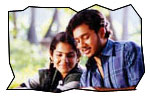 Bharat is good. He did a deglamourized role in the initial parts of the film. His dancing abilities were exploited in the only duet of the film that comes in the second half. Sandhya is a complete revelation. She is terrific with her natural performance. Her girl next-door looks and adolescent magnetism added lot of believability to characterization. Sukumar - who acted as buddy of Bharat - is competent. Arun Kumar who acted as aide of Bharat is very hilarious with his cowboy attitude. Dandapati and SK Murthy fit the bill.

Technical Departments: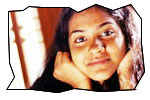 Story: Story of the film is based on a real story of a man who narrated an incident to director Balaji while traveling on a train. Story of the film is very realistic and the later part of it is too hard to digest. The point of a rich girl falling in love with an ugly dressed youngster appears bit too filmy.
Screenplay - direction: Screenplay of the film is good. And direction has certain brilliant moments. There is originality and honesty in his work. He touched the right chords in the flashback episodes of the first half of the film. But he dwelled into too much of reality in the second half which is too serious stuff for entertainment-loving Telugu people. Certain scenes of the film are pretty symbolic -
1. Aiswarya maturing on the same day when Murali speaks to and chides her.
2. Aiswarya opening the tap unconsciously when she is about to get matured.
3. Aiswarya's father getting a call from home that his daughter is missing when he is beating a lower-caste guy who got married to upper-caste girl.
4. The gesture of Murali's aide when Murali leaves his shop forever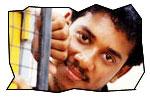 Technical departments: Music of the film is adequate. Background music is very good. Photography is an asset. Art work of the film is natural. Dialogues by Sri Rama Krishna are OK. But he could not get certain vital poetic dialogues right in Telugu. Lyrics by Veturi are good (especially janma needele. Maru janma neekele).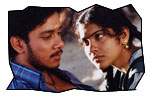 Analysis: First half of the film is good with lots of entertaining moments. The second half is too serious and realistic for a regular Telugu film goer to take in. Climax of the film is heart touching. Producer Suresh Kondeti's taste should be appreciated for choosing some art kind of film instead of run-of-the-mill stuff. Raw portrayal of Madhurai would have nativity problems for Telugu audience. It is like watching a Tamil film. The commercial success of the film depends on how Telugu film lovers receive the second half of the film.
Premiste Links
Some Ramblings
Press Meet
Audio launch
Audio CD launch
Photo Gallery
Sandhya photos
Jeevi reviews of previous 5 films
Allari Pidugu
Chatrapati
Political Rowdy
Good Boy
Nayakudu
More Reviews