Story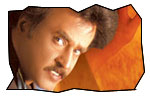 Kailash (Prabhu) and Ganga (Jyothika) is happily married wealthy couple. Kailash buys an abandoned palatial mansion on the insistence of Ganga. Legend has it that this mansion is a haunted one. Eeswar (Rajnikant) is the foster brother of Kailash and also an excellent psychiatrist. He visits haunted house and studies it. He comes to know that a Rajah who used to live in the same place around 150 years back. He forcibly got a danseuse called Chandramukhi from Tamilnadu and made her dance in his court. When she involved herself in an affair with another dancer, Rajah killed Chandramukhi and her lover together. The ghost of Chandramukhi haunts this palatial mansion. The rest of the story is all about how Eeswar solves the problem of ghost and how he unites the warring families as well.

Artists Performance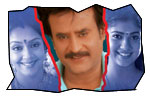 Rajnikant is great as usual. Since the role of psychiatrist is a pretty soft one, the director has included 3 bang-bang fights to satisfy the frontbenchers. Prabhu is adequate. Jyothika is excellent in the last half an hour of the film. Nayana Tara is sensuous and wore sarees. Incidentally Savitha Reddy dubbed the voices of both Jyothika and Nayana Tara by showing minor variations. Vineeth and Malavika are good. Vadivelu did a typical comedy role. Brahmanandam's dubbing helped in generating some comedy out of Vadivelu character.
Technical Departments:
Story: This film was originally made in Malayalam as 'Mani chitra tazha' a decade back. The same movie was dubbed and released in Telugu as 'Gajjela Chappudu' during that time. P Vasu remade this film in Kannada as 'Apta Mitra' with Vishnu Vardhan as hero last year. The same movie is now simultaneously remade in Tamil and Telugu with the title 'Chandramukhi'. The storyline of the film is neat and is different from regular flicks we get these days. There is a good amount of suspense element in this film. However the following thing is hazy -
1. Why would Chandramukhi ghost do not attempt anything against Eeswar and Tantrik who are in mansion to see the end of ghost.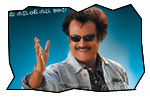 Screenplay - direction: Screenplay by P Vasu is haphazard. Narration is not smooth. There are many repetitive scenes. The concept of Chandramukhi is not explained in clear way. Direction is good in parts. Taking is old-fashioned. The director could not make the crowds relate the character of Eeswar to superstar Rajnikant. However, director succeeded in retaining suspense element till the climax.
Other departments: Music by Vidya Sagar is mediocre. Background music is good for scary scenes. Cinematography by Sekhar V Joseph is inconsistent. Artwork by Thota Tarani is good. Editing by Suresh Urs is average. Production values of the film are not of good quality. Dialogues by Rama Krishna are OK. There is one satire in this film on the physical appearances of Rajnikant and Prabhu that goes as -
Rajnikant to Prabhu: Nenu lavekkakoodadu. Nuvvu sannabada koodadu.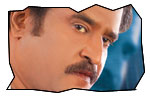 Analysis: First half of the film is mediocre. The story gets some grip towards interval. There is a surprise element in climax of the film. The suspense factor is maintained throughout. Plus points are the performances of Rajnikant and Jyothika. Negative points are insipid screenplay, mediocre music and insistent cinematography. This subject does not suit the macho image of Rajnikant. The subject of ghosts might not go well with masses. We have to wait and see if Rajnikant's charisma would work wonders for Chandramukhi or not.
Chandramukhi Links
Muhurat
Photo Gallery
Wallpapers
Jeevi reviews of previous 5 films
Avunanna Kadanna
Bunny
Andagadu
Soggadu
Sada Mee Sevalo
More Reviews