Story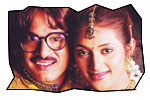 Sundaram (Rajendra Prasad) is a popular jingles composer. His only problem in life is his bad looks. No girl likes him and all his marriage proposals go futile. On one night, his housemaid suggests him that there are mohini pisachis (sex hungry lady ghosts) roaming in the night in search of able bachelors. Since Sudaram can't get real girls, he wants to settle for a mohini pisachi. He starts performing black magic to get hold of Mohini Pisachi. Ramya (Damini) accidentally bumps into his house and learns about Sundaram's fascination about mohini pisachi. The rest of the story is all about how she seduces him.

Artists Performance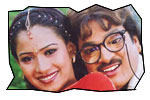 Main Leads: Rajendra Prasad wore thick spectacles and buck tooth to make himself appear ugly. He did well. Kannada actress Damini is adequate for the role of heroine. She has homely looks. Bhavana and Harika did small roles as girls who reject the hero and they had a song each with Rajendra Prasad. MS Narayana did another typical drunkard character. Venu Madhav is ineffective in the role of hero's assistant.
Technical Departments: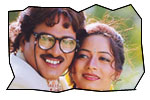 Story: Story of the film is about how a girl befriends a guy who is rejected by every other girl and how she uses him to get back to her lover. This thread appears very similar to the film 'Soggadu' that was released a day before. Incidentally both the titles - Soggadu and Andagadu - are synonyms.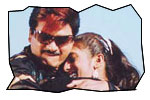 Screenplay - direction: Screenplay and direction by Pendyala Venkata Rama Rao is ineffective. In a film where Rajendra Prasad is doing the lead role, it is very important to get the comedy timing right. But, the director failed in tickling funny bones. The narration is old fashioned and the taking is very archaic.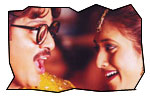 Other departments: Music by Sri is mediocre. So is the background score. Cinematography by Prasad Murella is not up to the mark. Dialogues by Gopi Venkatesh are so so. Another reason for the bad look of the film is low standards of filmmaking by the debutant producer Dande Srinivasa Rao.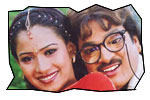 Analysis: First half of the film is bad. So is the second half. Story of the film is an age-old one. So is the direction and screenplay. Heroine teasing as ghost by staying in the same room appears ridiculous. You can safely avoid watching Andagadu.
Andagadu Links
Audio Function
Photo Gallery
Press Meet
Jeevi reviews of previous 5 films
Soggadu
Sada Mee Sevalo
Chakram
Prayatnam
Okkade Kani Iddaru
More Reviews