Story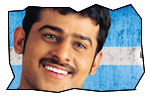 Chakram (Prabhas) and Lakshmi I (Asin) are foreign-returned medicos. They want to get married with the consent of their parents. When their marriage is on, Chakram writes a note that he doesn't want to marry Lakshmi I and runs away from his home town. He resurfaces back in Sahara Colony of Hyderabad. There he finds around 25 people with 25 different problems. He finds the root cause for each and every problem and solves all the problems. In the process, Lakshmi II (Charmy) falls in love with Chakram. Lakshmi I traces Chakram back and finds that he is in love with Lakshmi II. Chakram breaks the heart of Lakshmi I by telling her that he would be marrying Lakshmi II. The rest of the story is all about why Chakram became insincere to Lakshmi I.

Artists Performance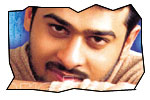 Prabhas: Doing this kind of role is really a blessing for any actor as it gives them a wider scope to explore plethora of histrionics. Prabhas performed extremely well. He is looking good with changed hair-do. However, the contact lens used for a few scenes of the film are not appealing enough. His costumes are good.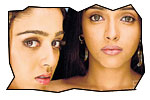 Heroines: Charmi got more footage in this film compared to Asin. Charmy is good, but she dubbed her voice in Telugu herself. She is not yet ready for self-dubbing. Asin is impressive in her role and half the time, you see her sobbing. SP Sailaja has dubbed her voice.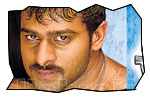 Others: It is nice to see veteran artist Padmanabham back on the screen. He is good. Prakash Raj supplied Oxygen into the emotional scenes towards climax by giving a credible and controlled performance. MS Narayana is cool as drunkard and his style of approaching Prabhas with newspaper is hilarious. Brahmanandam's cameo towards climax is excellent. Among the colony mates, Raghu Babu excelled as the conman with his typical personification.
Technical Departments: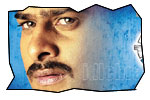 Story: The story of this film is said to be inspired by the amazing song - Jagamanta Kutumbam - written by Sirivennela way back in 1977. But the basic concept of the film appears to be based on Kal Ho Na Ho (which in turn is inspired by old Hindi classic Anand). Hero wooing the applause of colony mates resembles us about the 1st half of Kal Ho Na Ho. Prabhas trying to break the heart of Asin using Charmy resembles us of the Premabhishekam concept (ANR, Jaya Sudha & Sridevi).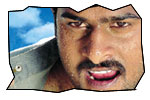 Screenplay - direction: Screenplay by Satyanand is ineffective. Narration of the film is very slow. It is very repetitive in the first half. Identifying problems for colony mates, solving them and preaching colony mates about importance of life are redundant in the first half. The preaching should have been used selectively to make better impact on the screen. Direction of the film is good in parts. Krishna Vamsi should be appreciated for making such a different film, but he should treat such subjects with balance by mixing entertainment into heavy emotions.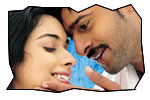 Music and songs picturization: Music by Chakri is good. Here are the sequence of songs and picturization details of the same -
1. Naa peru chakram: This is the song that introduces Prabhas to kids. Prabhas gets friendly with kids and by the song completes, he changes those spoilt brats into well-mannered kids. Picturization of the song is good and the selection of kids is brilliant. Chandrabose's lyrics are peppy.

2. Konchem Karamga: This song is picturized on Prabhas and Charmy in the beaches of abroad. Charmy unveiled her charm in the song as poor Prabhas gets literally reduced to a statue.

3. Rangeli Holi: This is a typical colony song where Prabhas dances with the entire colony mates.

4. Oke oka mata: This song is the best song in the film and has Krishna Vamsi's signature in it. This song is shot on Prabhas and Asin in the icy hills of Rumania. Krishna Vamsi has choreographed this song.

5. Sony cell phone: This is a typical masala song of Asin imagining the romance between Charmy and Prabhas. This song is done in flashy modern sets with unusual camera angles and lenses.

6. Jagamantha Kutumbam: This song holds the gist of the entire film and it brings feel into the climax of the film. Lyrics by Sirivennela are extraordinary. This song comes when Prabhas opens orphanage to be run by Padmanabham.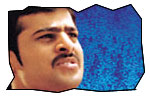 Other departments: Dialogues of the film are adequate. But too much of preaching makes you feel uneasy, as we come to films for entertainment. Cinematography Ram Prasad, Arvind Krishna and Om Prakash is good. The only fight composed by Stun Siva is excellent. Graphics of the film are good and natural. Production values by Geeta Chitra International banner are good.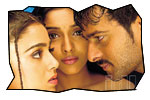 Analysis: First half of the film is a bit boring with many redundant scenes. Second half is very heavy. Climax of the film is heart touching. Screenplay of the film is ineffective. The focus is blurred in the first half as the director tried to dilute the main thread of the story by involving too many characters. The Director who tried giving solutions to each and every problem in this film did not explain the reason behind Charmy's father having two happy wives. You can see the intensity of Krishna Vamsy's thoughts in emotional scenes and preaching scenes. But because of the lack of good script, the intensity of the director went futile. On the whole, Chakram disappoints.
Chakram Links
Photo Gallery
Wallpapers
Audio function
Jeevi reviews of previous 5 films
Prayatnam
Okkade Kani Iddaru
Slokam
Sravanamasam
Relax
More Reviews