Story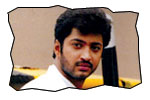 Prabhu (Aryan Rajesh) had a troubled childhood with his divorced parents. He walks out of his house at a tender age, commits crime and sent to a juvenile jail. After growing up, Prabhu settles as a small-time goon based at Leela Mahal Center. He kidnaps Anjali (Sadaf), daughter of Police Commissioner Sudhir (Suman). Anjali falls in love with Prabhu. Prabhu leaves her back at her house. Sudhir do not want his daughter to marry a low-class rowdy like Prabhu. He puts some conditions for Prabhu to make himself eligible to wed Anjali. The rest of the story is about whether Prabhu fulfills the requirements or not!
Artists Performance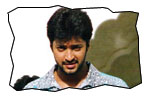 Main Leads: Aryan Rajesh shown maturity in this role. His character of Prabhu talks less and does more. There is a bit of mystic to his role as well. Aryan Rajesh performed exactly as per the requirements of the character. Sadaf is adequate for the role of heroine. But her role in this film is routine.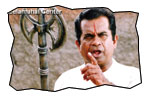 Others: Atul Kulakarni is appropriate as the soft villain. Suman is OK. Dharmavarapu Subramanyam is hilarious as Leela Mahal's manager who wears the costumes of hero of the film that is being played in his cinema hall. Krishna Bhagawan, Raghu Babu and Kalyani created good amount of comedy as the staff of cinema hall. Brahmanandam did a comic cameo as Singhamalai.
Technical Departments: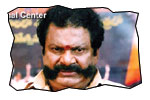 Story: This film is a remake of Tamil film Amarkalam (Shalini and Ajith). This film was also dubbed into Telugu as 'Adbhutam'. The story of this film is a typical rich girl and poor boy love story in the backdrop of a cinema hall. It is a commercially viable line with ample scope of entertainment.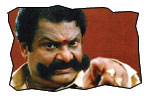 Screenplay - direction: Devi Prasad who made his debut with 'Aaduthoo Paaduthoo' directed this film. Looks like, he got used to novel backdrops. If Aaduthoo Paaduthoo had the backdrop of bus, this film has a backdrop of cinema hall. Devi Prasad should be appreciated for making a decent film in spite of undue delays and obstacles that dogged the progress of this film. Direction of the film is adequate. Screenplay is fair.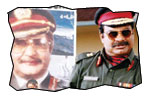 Other departments: Dialogues by Vegnesa Satish are good (especially the comedy ones). Music by SA Raj Kumar is mediocre. He mixed 'Babuji jara dheere chalo' and 'Mabbe masakesindile' songs for a song in this film. Cinematography by K Shankar is satisfactory. Action sequences composed by Siva serve the purpose. There are certain inadequacies in the film due to long delay in making and release.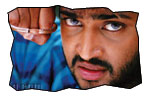 Analysis: First half of the film is entertaining. Second half is OK. This film is the best film by Aryan Rajesh so far. The plus points of the film are comedy and no-boring-scenes. The negative points are music and long delay in production. You may watch it once at your leisure for the comedy 'Leela Mahal Center' offers.
Leela Mahal Center links
Photo Gallery
Jeevi reviews of previous 5 films
No
Konchem Touchlo Vunte Cheputanu
Suryam
Sakhiya
Sundarangudu
More Reviews