Story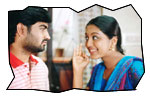 Venu (Ravi Krishna) hails from a lower middle class family, raised by his lone mother and he supports his family going to work at a tender age. A good hearted guy, Venu has only one severe problem - a disfigurement on his face. A side of his face gets burned when he was a kid. People get scared by looking at him and certain people make fun of him. Due to this, Venu develops severe inferiority complex. He consults a surgeon and inquires about how much it would cost for a plastic surgery. He starts saving money. In that process, he becomes short-tempered and loses his cool character. The rest of the film is all about how he realizes that it's the inner beauty that matters, but not the looks.
Artists Performance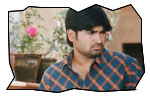 Ravi Krishna: Ravi Krishna suited the character very well. His dialogue delivery improved a lot compared to his debut film 7GBC. However the disfigurement on his face does not appear as ugly/frightening as the characters in the film believe it to be. There is lots of maturity in his performance towards the climax of the film. Ravi Krishna seems to be sticking to sympathy-driven characters.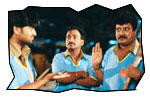 Others: Revathy is pretty natural in the role of mother. Gopika is lovely as the unassuming girl-next-door showering mute love on Ravi Krishna. Sanjitha is adequate in the small yet vital role. Prakash Raj is good as the mentor. The comedy by Venu Madhav is ineffective. Uttej did a meaningful role. Thalaivasal Vijay appears in a guest role as the painter.

Technical Departments: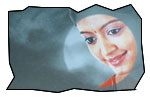 Story - screenplay - direction: The basic storyline is very different from the stories of regular films. This story tells the importance of inner beauty. Screenplay of the film is pretty slow. Direction is good in parts and is pretty old fashioned catering to the segment of women. Too much emphasize laid on sentimental scenes. The way he shown how a sane man would become pretty wild due to frustration is brilliant.
Music: Though there are six songs in the album, only four songs appear on screen as duets. Vennele Kurisenule is pretty melodious and wins your hearts. 'Chirugali' song is good and it appears as back background music for vital situation.
Dialogues: Dialogues are plus points in this film. Most of the dialogues are pretty natural and logical. They appear like they are derived from the day-to-day life experiences of emotional struggle. Here are a couple of dialogues that are appropriately used -
1. Addam okkasare pagulutundi. Naa manasu prati roju pagulutundi. (interval dialogue)
2. Pakkana vunnantha sepu valla viluva manaki teleedu. (climax dialogue).
Other departments: Cinematography is adequate. Most of the film is shot in a colony set. Editing is OK. Fights are not required in this film.

Analysis: First half of the film is OK. The climax of the film is heart touching. Plus points of the film are good storyline and dialogues. The negative points of the film are slow narration and lack of all-round approach in screenplay. From a critic's point of view, Muddula Koduku makes an average flick. The commercial success of the film would depend on how ladies embrace it.
Muddula Koduku Links
Photo Gallery
Set photos
Press Meet
Wall papers
Jeevi reviews of previous 5 films
123 from Amalapuram
Please Naaku Pellaindi
Adirindayya Chandram
Andhrudu
Nuvvante Nakistam
More Reviews