Story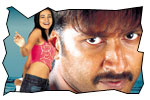 Gautami (Neha Julka) is a real estate agent in Mumbai. Kiran (Gopichand) owns a property in Mumbai and sells it through Gautami. He needs money for an urgent purpose and asks Gautami to help him out in getting the money soon instead of the agreed time of six months. Sona Bhai (Mahesh Manjrekar) is an influential mafia don in Mumbai who needs an urgent heart transplantation. His blood group (Bombay blood group) is rare as very few people in India belong to the same blood group. As Sona Bhai runs out of options, his men desperately search for a healthy man from whom the can get heart for their boss. Apparantly Kiran also belongs to the same blood group. And the rest of the story is all about the tussle between Kiran and Sona Bhai.
Artists Performance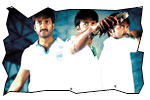 Gopichand: Kiran role in this film adds a new addition to Gopichand's arsenal. He changed his dialogue delivery and body language to suit the role of a city-based guy, brought up in sophisticated environment. He looks extremely flexible and comfortable in lethal action sequences.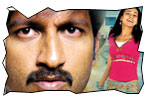 Others: Neha Julka is adequate as female lead. She looks more beautiful without a bindi (bottu). Mahesh Manjrekar is good as mafia man suffering from health problems. Nassar played a vital role of villain's close associate. Rahul Dev is extremely good in a different character. Giri Babu plays heroine's father. The comedy bit by Brahmanandam in second half deserves special mention.
Technical Departments: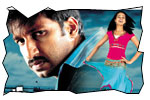 Story - screenplay - direction: Story of the film is different. Though the storyline is very thin, director Chandra Sekhar Yeleti made sure that there is enough logic behind every move hero makes. He also created the screenplay in such a way that hero has a strong reason behind staying in Mumbai though hounded by the villain's gang. At the same time, goons can't be ruthless on hero as they want him alive and healthy . That gives hero the power of invincibility. Chandra Sekhar canned action sequences extremely well, but the romance thread between the lead pair is under developed. One unappealing thing about the narration of the film is that the subject is too serious and the director did not try to mix some humor in narration of the film the way he did for his earlier two films.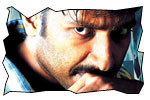 Other departments: Cinematography by Jaya Krishna Gummadi is neat. We definitely expect better music from Keeravani for this film. The songs shot in Dubai by Krishna Vamsi offer some relief. Dialogues by Koratala Siva are good. There are some intelligent dialogues in second half like 'Nee Gunde Dhairyam Chavali. Kaani Gunde bagundali'. Artwork by Ravindar is realistic (especially heroine's house set by the bay). Fights composed by Allen Amin, Ram Lakshman & Vijay are first rate. Production values by Clap Entertainment are good.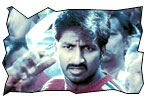 Analysis: First half of the film is neat and it lays very good foundation for the battle between the hero and the villain. Second half is filled with series of action sequences which makes it redundant. The way Gopichand takes 4 crores from villain is good (it's more of psychological than physical). The climax of the film appears little abrupt. The plus points of the film are taking of Chandra Sekhar Yeleti and action sequences. The main draw back of the film is lack of relieving entertainment. Chandra Sekhar made sure in his earlier films (Aithe and AOR) that however serious the subject is, the narration is in lighter vein with nice humor. That humor is missing in this film. Violence is excessive. The fate of the film depends on how family crowds take it.
Okkadunnadu links
• Press Meet
• Audio launch
• Photo Gallery
• Wallpapers
• Trailers
Jeevi reviews of previous 5 films
• Lakshmi Kalyanam
• Madhumasam
• Maharadhi
• Desamuduru
• Annavaram
More Reviews