Story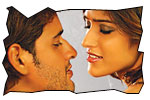 Pandu (Mahesh Babu) is a ruthless mafia man who kills anybody for money. He falls in love with Sruthi (Ileana) at the very first sight. Sruthi too loves Pandu, but hesitates to confess her love to him as he is a reckless criminal. Though a goon, Pandu has certain rigid principles that leads for an enmity with Ali (Prakash Raj) - the biggest mafia don in the town. The rest of the story is all about how he settles score with Ali.
Artists Performance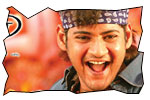 Mahesh: In my opinion, this was the best ever performance by Mahesh Babu. His acting skills not only render commercial entertainment to the general crowds, but also delight the serious filmgoers. Puri Jagan should be commended for doing great characterization for Mahesh. Mahesh Babu's one-liners uttered in Uttarandhra dialect are real fun. Mahesh Babu who is undoubtedly the best good looking hero of this generation is extremely fascinating with his new hairdo.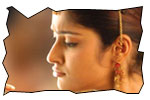 Others: Ileana goes a step ahead from Devadasu in histrionics department. She is also another attraction for this movie. Sayaji Shinde steals the show in certain intense moments as a sincere cop. Prakash Raj is entertaining. Nasseer is extremely good in an episode that takes place 20 minutes before the climax. The comedy track of Brahmanandam and Ali is not impressive. This track should have been trimmed towards the end. Jyothirana is good as rowdy seductress. Item song girl Mumaith Khan put on a bit of weight.
Technical Departments: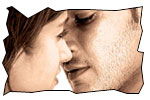 Story - screenplay - dialogues - Direction: Story of the film is simple. The basic storyline of a guy trying knock off mafia by being a part of it seems to have certain roots in Akira Kurosawa's 'Yojimbo'. The twist in the plot has roots in 'Donnie Brasco'. Basically, Pokiri is a screenplay based film with a wafer-thin storyline. Screenplay is commendable. Puri Jagan's asset has always been his characterization. He gave perfect characterization to Mahesh Babu's character. Direction is neat, but for a few glitches in the second half. Dialogues written by Puri are very good. He also attacked TV channels and newspapers through Sayaji Shinde in an excellent manner. However, the director should have handled the following aspects in a better way
1. Prakash Raj who is introduced as a powerful mafia don is projected in comical style in the second half.
2. Sayaji Shinde's character that is established very firmly in the beginning becomes weak towards climax.
3. There is no clarity regarding conflict aspect as the real intention of hero is not revealed for 80% of the film.
Other departments: Music by Mani Sharma is an asset. His background music is also good. 'Gala Gala' song is the highlight. When I listened to that song, I often wondered why lyricist used 'Kanneeru' in the lyrics. But the lead scene of that song aptly suited it. Raju Sundaram's signature is prevalent in most of the songs. Cinematography Shyam K Naidu is good. Fights by Vijayan are satisfactory. Gunfire is used in most of the fights. Editing by Marthand K Venkatesh is neat with fast-paced cuts. Production values by Vaishno Academy are good.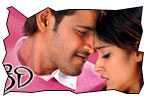 Analysis: First half of the film is very entertaining. The tempo has gone down a bit in the second half, but the run up to the climax is good. The plus points of this film are Mahesh Babu's extraordinary performance and Puri Jagan's characterization of hero. On the flip side, second half should have handled better. The emotions aspect is not properly taken care of. On the commercial front, Pokiri film has more appeal towards A centers and youth base compared to family crowds and B/C centers. On a whole, Mahesh Babu's performance in Pokiri itself is worth your ticket and the rest is bonus!
Pokiri links
Puri Jagan interview
Photo Gallery
Ileana photos
Working stills
Audio launch
Muhurat
Wallpapers
Trailers
Video Songs
Schedules
USA | UK | Australia
Jeevi reviews of previous 5 films
Pournami
Sri Ramadasu
Rajababu
Asadhyudu
Ranam
More Reviews