Story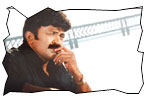 Raja Babu (Raja Sekhar) is the elder son in a prestigious family. He goes out of his way to help the people. His father Parandhamayya (Vijaya Kumar) reveals on his deathbed to Rajababu that he has a second family in Annavaram. Rajababu takes up the onus of supporting his step-family without revealing the secret to his family members. It leads to many misunderstandings in his own family. The rest of the story is all about how Rajababu solves all the problems.
Artists Performance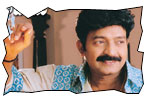 Rajasekhar is neat in the lead role. He should take care of his hair-do and make-up in order to look more glamorous. Sridevika is adequate. But it is Brahmanandam and Kovai Sarala who steals the show. Kovai Sarala is absolutely brilliant in 'Chandramukhi spoof'. Vijaya Kumar played the role of husband with two wives. Riaz Khan is good. Sarada acted in this film after a gap of one year. Dharmavarapu and Krishna Bhagawan are entertaining. Harika is good as step-sister of hero.
Technical Departments: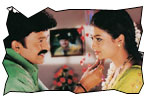 Direction by Muppalaneni Siva is adequate. Screenplay is OK. Treatment of the film is old-fashioned and aimed at middle-class ladies and B/C center crowds. Music by SA Rajkumar is mediocre. Dialogues by Vegnesa Satish are fair. Cinematography is average. Fights are adequate.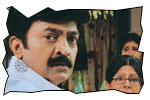 Analysis: First half of the film is adequate. The tempo goes down a bit in second half. But climax is handled in a decent way. The lifeline of this film the mass comedy by Brahmanandam - Kovai Sarala (Chandramukhi spoof). The main negative points of the film are old-fashioned narration and a clichéd storyline. This film is essentially aimed at B and C centers and would appeal to them. On a whole, Rajababu is much better than the films Raja Sekhar dished out in the recent past.
Rajababu Links
Photo Gallery
Audio launch
Trailers
US release
Jeevi reviews of previous 5 films
Asadhyudu
Ranam
Shock
Sarada Saradaga
Happy
More Reviews