Story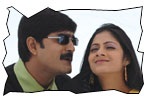 Raghava (Srikanth) is the owner of beauty parlor. Girls who frequent to his parlor inevitably fall in love with him. Ali (Ali) - an assistant of Raghava - lies to these girls that Raghava is married in order to avoid them. Lavanya (Sindhu Tolani) falls for Raghava. But the moment she is about to propose him, Ali tells her also that his boss is a married guy. Incidentally Raghava too loves Lavanya. A disheartened Lavanya leaves Raghava. And he wants her back. Subba Rao (Rajendra Prasad) plots a plan to unite Raghava and Lavanya. The rest of the story is all about how Subba Rao plan boomerangs and there by shatters the relationship of three couples.
Artists Performance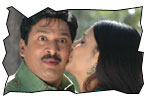 The main hero of the film is Srikanth. The characters of Rajendra Prasad and Siva Balaji are mere supporting characters. Three of them did well. Sindhu Tolani is good. Ruthika suited the character of housewife who turns against her husband. Pranathi is OK. Brahmanandam's comedy is partly good. The comedy track of MS Narayana and Sunil is ineffective.

Technical Departments: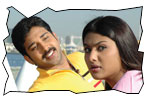 Story - screenplay - direction: Sarada Saradaga is a typical film that runs on 'comedy of errors' genre. Hence we don't look for any logic. But we expect the director to deal with comedy in such a way that its spontaneous. The comedy timing in this film is not good enough to evoke laughter. The screenplay of the film is sloppy. Direction of the film should have been better.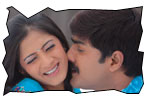 Other Departments: Music by SV Krishna Reddy is average. Mallepoova song entertains masses. Photography by Arun Kumar is adequate. One fail to understand why editor used so many ramping shots in the film when it is absolutely not needed. Dialogues by Janardhan Maharshi are OK.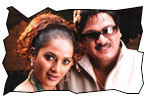 Analysis: SV Krishna Reddy who is known as prolific comedy director could not get the comedy timing and screenplay right in this film. Comedy star like Rajendra Prasad is underutilized. The duration of film is 2 hours. On a whole, Sarada Saradaga which is supposed to be a comedy flick, fails to entertain.
Sarada saradaga Links
Photo Gallery
Audio launch
Muhurat
Press Meet
Trailers
Jeevi reviews of previous 5 films
Happy
Chukkallo Chandrudu
Lakshmi
Style
Devadasu
Gowtam SSC
More Reviews