Story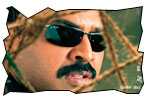 Lakshmi Narayana (Venkatesh) is an elder son in a family with 3 brothers and 2 sisters. Lakshmi owns a factory that is worth 100's of crores. Janardhan (Sayaji Shinde) - an former employee of Lakshmi Industries - plans to take revenge on Lakshmi by creating difference in his family and succeeds in it. The rest of the story is all about how Lakshmi unites his family members and wins back his lady love Nandini (Nayana Tara).
Artists Performance
Venkatesh: Venkatesh has donned a role with two shades. The first one as too-good-to-believe and self-sacrificing brother and the second one as an angry young man. He did very well. He excelled a lot in the sentimental scenes. He is good as the lover in the flashback episode too. Venkatesh danced with gay abandon in Lakshmi Bava song.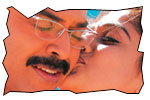 Others: Nayana Tara did the role of main heroine. She got an ample footage in the flashback episode and she did well. Charmme is limited to 3 duets and does not have any importance in the storyline in this film. Sayaji Shinde is good as the main villain. Pradeep Rawat is adequate as Calcutta don. Sunil's comedy is OK. The comedy thread of Venu Madhav and Telangana Sakuntala is partly good. Rajiv Kanakala, Sharvanand, Satya Prakash and Revathi are adequate.

Technical Departments:
Screenplay - direction: Screenplay by VV Vinayak is OK. He has his unique way of elevating heroism of the hero through the dialogues of other characters. There are fights in the beginning, climax and flashback episodes of the film. But what raises the heroism are the dialogues uttered by various characters (sisters, mother and Sunil) in critical scenes of the film. However, Vinayak should have taken care of second half well where the tempo seem to have gone down.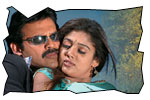 Other Departments: Story of the film is routine and has resemblance to various old Telugu films with brother-sentiment. Dialogues are average. Songs by Ramana Gogula are very good when you listen to them on the stereo. 'Lakshmi Bava' song is a highlight in the film in terms of picturization and placement. Mani Sharma provided background music. RaNa Daggubati supervised the fx in this film. The cartoon version of Venu Madhav - Sakuntala fight and car-robo animation in Andhra Mirchi song are good. Production values are neat.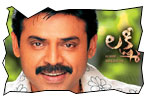 Analysis: First half of the film is OK and the scenes before interval are good. The second half divulges into a entirely different flashback episode. There are certain good moments in the film and has got orientation towards masses and family crowds. However, the VV Vinayak could not blend in Venkatesh's family image and Vinayak's mass taking in a smooth way. The biggest advantage of this film is that Lakshmi is the only mass film for the entire season of Sankranthi which gives good market penetration in C and D centers as well in the first week itself.
Lakshmi Links
Ramana Gogula Chitchat
Photo Gallery
Wallpapers
Audio launch
Trailers
US Schedules
Jeevi reviews of previous 5 films
Style
Devadasu
Gowtam SSC
Jai Chiranjeeva!
Aaru
More Reviews