Story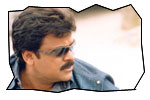 Satyanarayana Murthy (Chiranjeevi) is a good hearted man in Amalapuram. The sudden death of his niece comes as a rude shock to him. But later on, he realizes that it was not a natural death, but died due to a careless shootout. He visits Hyderabad in search of the culprit who killed his niece. The rest of the story is all about how he accomplished it with the help of divine intervention and Neelima (Bhumika Chawla).
Artists Performance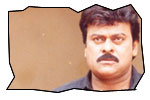 Chiranjeevi: Chiranjeevi is in his elements again in this film by playing it to the galleries in comedy department. 70% of the scenes involving Chiranjeevi are dealt in humorous way. The way Chiranjeevi performs while kidnapping Sunil, making bakra out of Brahmanandam and church marriage scene is just perfect. His portrayal of affection towards his niece in flashback episode is also good. Dances performed are satisfactory.
Others: Sameera Reddy is the glamour doll of this film. She is nice and did Shakeera trademark dances. Bhumika Chawla who enters into the film in the second half plays a pivotal role. But her characterization is passive. Arbaz Khan is adequate as villain. Rahul Dev and Jaya Prakash Reddy are OK. Pingpong gave a commendable performance in an author-backed role of Rasool. Sunil is entertaining as innocent son of Jaya Prakash Reddy. Brahmanandam's episode in USA is nice. Tanikella Bharani as visa agent is hilarious. The child actress who did the role of niece is extremely cute. Venu Madhav is adequate.

Technical Departments: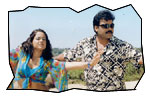 Screenplay - direction: Vijaya Bhaskar is known for directing films that blend love, humor and sentiment in the right proportions. For the first time he has dealt with revenge story in this film. But the comedy in the film is given lot of footage. Screenplay should have been better. Though the comedy is entertaining, the purpose of the lead man taking revenge was not projected in an effective way. The divine intervention aspect and parallels to Ramayana are also not well established.
But his style of cooking up scenes laced with humor is intact. The following episodes in the film put you into splits
1. Ten Downing Street pub humor
2. Comedy episode in Delhi Public School
3. Sunil kidnap episode
4. Comedy of Marriage in Church
5. Brahmanandam in USA
The following episodes are impressive in terms of sentiment
1. Flashback episode
2. Hero caring for the girl suffering as child labor
3. Pingpong episode
The following films seem to have inspired certain scenes
1. Payback: Phone bomb planted by goons is being cleverly used by hero to assassinate them.
2. Fatal attraction: Boiling a puppy.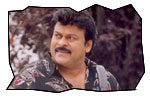 Story - dialogues: Story of the film is pretty strong one if emotions could be brought out in an effective way. Dialogues by Trivikram have his trademark punches and sensible humor. The way he makes lighter vein comedy out of seemingly general things is excellent.
Here are a couple of scenes that shows how Trivikram plays with words and situations to generate neat humor
After rescuing a lady in the train
Hero: Emi Chaduvutunnavamma
Girl: Swathi
Hero: Bandi lo kaadamma, ballo!

While going to USA in Hyderabad airport
MS Narayana: Eevida evarandi?
Chiranjeevi: Maa Aavida
MSN: Mari eevida evaru? Frienda leka neighbora?
Chiranjeevi: Naaku kaboye pellam
MSN: Abbo nuvvu Americalo vundalsina vaadivi!
Chiranjeevi: Avunu. Akkadike Veltunna.

Other departments: Music by Mani Sharma appears better on screen compared to listening on the audio tape. Cinematography by Venu (NVNV fame) is OK. Production values by Vyjayanthi banner are good.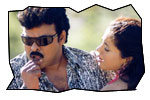 Analysis: First half of the film is satisfactory with entertainment. There is lag in the second half. Sunil, marriage and Brahmanandam episodes are dealt well in the second half. Climax should have been handled better. The plus points of the film are Chiranjeevi and comedy dialogues by Trivikram. On the flipside, the main revenge objective of hero was not efficiently projected. We have to wait and see how Jai Chiranjeeva! fares at the box office!
JC Links
Photo Gallery
Muhurat
Press Meet
Audio launch
Mega Posters
Jeevi reviews of previous 5 films
Aaru
Sri
Mahanandi
Vennela
Seenugadu Chiranjeevi Fan
More Reviews