Story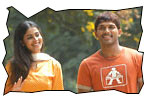 Bunny (Allu Arjun) is an orphan who works as a Pizza delivery boy. Madhumati (Genelia) is the daughter of a caste-based politician and studies MBBS. Bunny and Madhumati meet each other in a strange situation and are forced to get married in an unforeseen situation. The rest of the story is all about how this couple who never had any intention of love find soul mates in each other.
Artists Performance
Allu Arjun: Allu Arjun has given his career best performance in the last 2 minutes of this film. Allu Arjun's characterization in this film is of a typical happy-go-lucky guy. That's a tailor-made role for him and he did it with great élan. Dances have always been a big asset to Allu Arjun and his steps in 'Vassa' song make masses go crazy. There is stylishness in Arjun and his wardrobe is pretty good.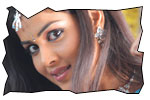 Others: Genelia has got lots of scope for performance in this film and she did exceptionally well. Manoj Bajpai impresses everybody with his cameo. The one who did the role of evil cop has shown intensity in his performance. Rama Prabha, Tanikella Bharani, Suman Setty and Jahnavi are adequate.

Technical Departments: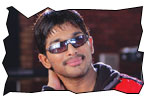 Story - screenplay - direction: Direction by Karunakaran is fairly good. There are a few scenes in the film (hero behaving like God scene, a replica hero dancing when genelia sits on his bike for the first time) that shows the exceptional creativity of the director. Screenplay of the film is smooth, but for the last 25 minutes. Karunakaran's ability to chip in sweet nothings in songs is exemplary. The scene in which heroine shows door to hero in the second half is unconvincing.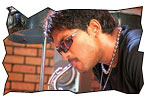 Music and songs: Music by Yuan Shankar Raja is excellent. All songs are well picturized with nice themes. The best song of the film is 'Ye Hrudayam'. Here is the description of each song n the order of appearance -
1. Hyderabadi: This song showcase the landmarks of Hyderabad coupled with riveting dances of Allu Arjun. Probably a song is shot for the first time at Buddha statue in Hussain Sagar. This song is merged into narration and shows how hero got settled in Hyderabad.

2. Happy: This song has a theme. The best thing about this song are the editing cuts by Anthony. The set was used pretty creatively to narrate the song theme with right picturization. On a whole it's a typical music video kind of song done with high quality.

3. Vassa Vassa: This is a massive mass number of Happy album. Mass steps composed by Ashok Raj rocks masses away. It is a set song and Allu Arjun shows his dancing prowess again with this song. The way director made Manoj Bajpai sing the first lyric of the song and clubbed such a mass song into narration smoothly is innovative.

4. I hate you: This song comes as the first song after the marriage. It is a very trendy song that has teasing elements. It is shot on the mean leads and their friends. It is another creative song.

5. Egire Mabbulona: This song is the best song of Happy. And its scored high in all aspects - lyrics, situation, music, melody and theme. Karunakaran canned this song with lots of dexterity. This song shows the blossoming of love between the lead pair.

6. Nee Kosam: It is another good song that is used for the separation of the couple with ample flashback scenes.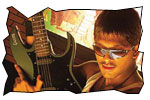 Other Departments: Photography by RD Raja Sekhar is exceptional. Editing by Anthony is cool and trendy. His editing cuts in songs are good. Set work by Chinna is first-rate. Fx work is really fine, especially the titles animtion. Fights are adequate. Dialogues by Kona Venkat and Swamy are good. Production values by Geetha Arts banner are exceptionally good.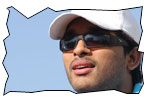 Analysis: First half of the film is entertaining and promising. Second half is adequate. The last half an hour of the film does not gel well with the rest of the film. However, the last 2 minutes of the film is heart-touching. The plus points of the film are Allu Arjun, songs picturization, technical values and comedy. On the flip side, tempo in the latter part of the second half went down. On a while, Happy is a happy film watch for its songs and comedy.
Happy Links
Photo Gallery
Wallpapers
Audio launch
Trailers
Aus Schedules
Jeevi reviews of previous 5 films
Chukkallo Chandrudu
Lakshmi
Style
Devadasu
Gowtam SSC
More Reviews