Story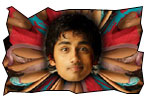 Arjun (Siddardha) is a Germany-based NRI. He gives a commitment to his grandfather (ANR) that he would find a bride and marry soon. He returns to India and takes help of his childhood friend Puppy (Sunil). Arjun identifies three girl childhood friends - Sravani, Sandhya and Shalini. Sravani (Sada) is a middle class girl who is studying MBBS. Sandhya (Charmme) is an aggressive women activist. Shalini Rao (Saloni) is a tennis celebrity. Arjun rechristens his name as Krishna in-order to be a stranger to these three girls. His plan is to select the best girl as bride. The entire story of the film is all about who he ends up falling in love with.
Artists Performance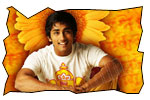 Siddardha: Siddardha is extremely good in the lead role. He has brought believability to his character with sophisticated body language, elegant Telugu containing cute accent, refined looks and graceful histrionics. He is completely energetic and at home while playing the character of confused Casanova.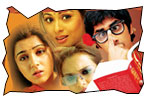 Heroines: Charmme's role is the most popular one among the heroines as the social activist. She wears a nose ring, tries to be vociferous all the time and behaves like a tomboy. Sada is pretty homely as middle class girl who lacks confidence and always lives with the fathom of fear inside her. Saloni got the role of an ambitious girl who devotes her life to Tennis.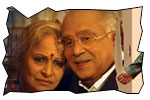 Others: ANR perfectly suited the role the of grandfather and brought stature to it. Prabhu Deva did a cameo in the film towards climax. He is cool as usual. Prathap Pothan is good too and the dubbing voice given to him is too good. Sunil steals the show as the dumb buddy of Siddardh. Waheeda Rehman's role is very short. Ahuthi Prasad looks different with short hair.

Technical Departments: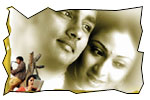 Story - screenplay - direction: Story of the film is simple. It is about a guy testing 3 of his childhood girl friends to choose the better one and in turn truly fall in real love with a girl among them. These kinds of single-thread stories need to be handled very deftly with an undercurrent emotion and exceptionally good screenplay in order to work. Debutant director Siva Kumar came up with commendable performance in terms of handling scenes with fervor and giving them different flavor. There is nice and sensible humor sprinkled all over the film. Siva Kumar has the ability to narrate the film smoothly. If he can pick-up good storyline with multiple-threads and good emotional depth, Siva Kumar would go places. However, he should have concentrated on the following two aspects -
1. When Shalini Rao tells Arjun that she lost match (while representing India) because she could spend time with him, Arjun feels happy about it. Arjun is projected as noble guy with lots of maturity from the beginning og the film. And that nobility took a beating because of this scene.

2. The inclination of Arjun towards Sravani in the latter part of second half should have been dealt with more emotional depth.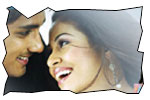 Other Departments: Music by Chakri is very untypical of him. He came out of his routine format and scored different tunes. Siddardha's dances added more beauty to those songs on the screen. Cinematography by Abhik Mukhopadyay and Sameer Reddy is an asset. Dialogues by Kona Venkat are good with cute one-liners. He mixed English in the dialogues. Artwork by Anand Sai is good. Production values by Creative Commercials banner are excellent.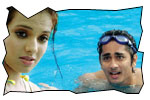 Analysis: First half of the film is laced with nice entertainment and is pretty good. The second half where the crux of film content lies should have been handled more deftly. The interval block where director uses the visuals of Amitab's KBC to solve hero's problem is pretty creative. The plus points of the film are Siddardha and clean comedy. On the flip side, the emotional content was not dealt well in the second half and it lacks commercial elements that are needed for the masses. Producer Alexander Vallabha should be appreciated for making his debut with a film that defies the routine formula. On a whole, Chukkallo Chandrudu is a sophisticated comedy film for multiplex crowds.
Chukkallo Chandrudu Links
KS Rama Rao Chitchat
Siva Kumar Interview
Photo Gallery
Wallpapers
Muhurat
Audio launch
Audio CD launch
US Schedules
Jeevi reviews of previous 5 films
Lakshmi
Style
Devadasu
Gowtam SSC
Jai Chiranjeeva!
More Reviews